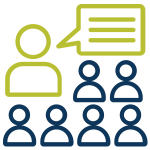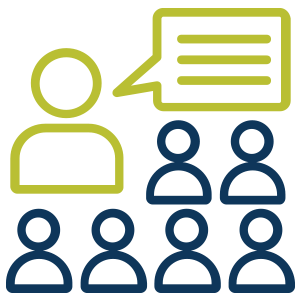 "

I was very pleased with the format, duration
and effectiveness of the session. Our time flew
by but did not feel rushed nor was anything
missed or discounted in an effort to manage
time. Keep up the excellent work.

"
– Coaching Client Feedback
Our executive coaching programs enhance leadership
competencies, character, and emotional intelligence.
We offer short-term and longer-term coaching options
based on our assessments and 360-degree feedback.

INDIVIDUAL COACHING
Our executive coaching services are
typically provided one-on-one, and can
consist of a one time debrief session or
a longer-term engagement.
GROUP COACHING AND WORKSHOP
We offer training workshops and
presentations on the following topics:
Enhancing Creativity and innovation
Enhancing Emotional Intelligence
Communication
Delivering and Receiving Feedback
Conflict Management
Enhancing Resilience
Presentation Skills
INDIVIDUAL & GROUPS
Take your people and organization to the next level.
Our coaching program is designed to enhance motivation
and self-awareness, and build skills and competencies using
a mindful, balanced, strength-based approach to development.
In addition to building skills on specific competencies, the
benefits of our approach include enhancing leaders' ability
to focus in the face of increasing demands and distractions,
enhancing resilience and well—being, and supporting the
ability to regulate emotions and make better decisions.
OUR APPROACH TO BEHAVIOUR CHANGE
SELF-AWARENESS
Using assessments, we help leaders identify what they
should continue to do (strengths), as well as areas where
they can work  (developmental areas).
SKILL ACQUISITION 
Once self-awareness and motivation have been
addressed, we focus on equipping leaders with the
tools an skills need to reach are goals through
discussion and intentional practice opportunities.
MOTIVATION
We facilitate leader's discoveries about what want
to do differently and enhance their motivation and
readiness for change rough techniques designed to
assess and enhance change readiness.
MAINTENANCE
As leader skills develop, we discuss strategies that can
be used to sustain behaviour change over the long—term.
"

The entire process is worth participating in. I was enlightened
and enjoyed the overall process.

"
– Coaching Client Feedback
BUILD ON THE STRENGTH OF YOUR LEADERSHIP.
Ask us about our coaching solutions and custom options to suit your specific requirements
www.sigmaassessmentsystems.com | 1 800 265 1285
For more information on how SIGMA's leadership services can help you develop your potential, contact us today.