Many companies are aware of the need for succession planning, but don't know where to begin. If your company has signed on for our Launch Series, you've already taken the first step to having your own personalized Succession Plan. Before your Launch Series date, let's review how you can best prepare for your session.
To help you keep track of the information you should have before beginning our Launch Series, we've designed a Preparing for Your Launch Series worksheet. Use the checklist to note which items you've completed, and to keep track of any outstanding information. Try to return the information to your SIGMA succession consultant two weeks before your Launch Series session.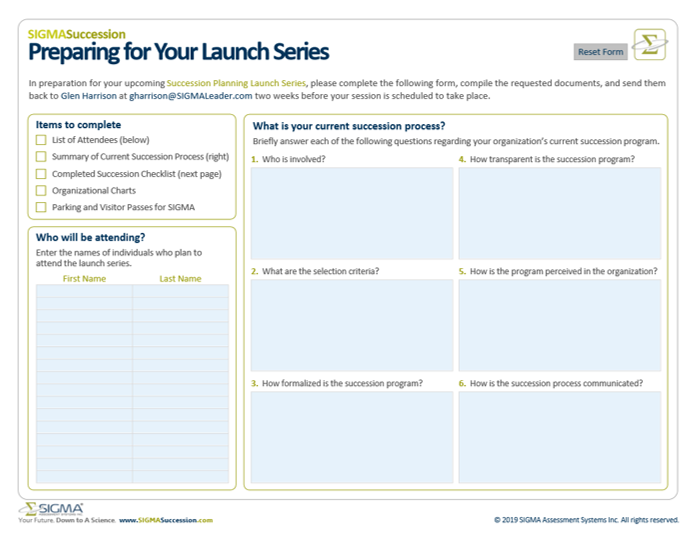 Consider Your Attendees
It's important to be intentional about who is in the room during your Launch Series. You'll want to have decision-makers and leaders in the room, which typically means gathering your senior management team. These individuals will be critical to both designing and implementing your company's Succession Plan.
Reflect on the Status Quo
To help us best assist you, it is useful to have a sense of the succession process currently in place within your organization. Consider some key facts about your organization's current process, such as who is involved, the level of formality of the program, and how it is perceived across the company. It may be that your company is not actively engaging in succession planning, and that's okay! Our role is to help you create a plan that is realistic and sustainable for your company, and having a greater understanding of your current process will help us achieve that goal.
Include Organizational Charts
When sending information back to SIGMA, be sure to include a chart of your organization's hierarchy, if possible. Include your senior management positions and their chain of direct reports. This will allow us to personalize your session right from the beginning, and talk about how succession planning can be implemented within your organizational structure.
Complete our Checklist
To gain a better understanding of the areas where your succession planning process could use some more attention, complete our Success Checklist. This form measures the maturity of your succession plan and provides an at-a-glance overview of the success of your process thus far.
How SIGMA Can Help
At SIGMA, we want to help your company be more effective and proactive with a good succession plan. For more information on our SIMPLE Succession Process, Launch Series, or Succession Planning solutions, contact us and learn more about how we can help your organization develop your next generation of talent.
---