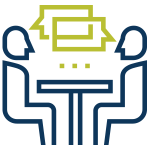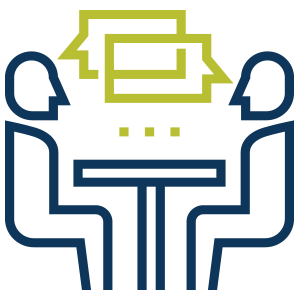 Maximize leadership potential in your organization with our leadership consulting services or customize a solution to address your particular needs.
Our experienced consultants have the skills and expertise to assist your organization with employee selection, coaching, development, and succession planning.
Our expertise in assessments means our responsive, knowledgeable, and dedicated team can help you identify the best solutions to meet your needs.
Leadership Consulting Solutions for Every Situation
Some of the specific areas our leadership consultants can assist you with include:
Assessing individuals in your organization that have high leadership potential, coaching and developing their skills and assisting management in making leadership decisions.
LEADERSHIP
ASSESSMENT
TRAINING
Providing facilitators in your organization with a deeper understanding of personality-based and 360-degree feedback leadership assessments and how they can enhance leadership coaching, consulting and HR practices.
BENCHMARKING LEADERSHIP COMPETENCIES
Working with your organization to identify the ideal leadership competencies required for successful performance in a particular role, or in your organization as a whole.
We also offer the flexibility to build the custom solution you envision.
Why Work with an External Leadership Consultant?
There are a surprising number of benefits to working with a leadership consultant. External consultants work with a variety of organizations across industries, so they bring a unique portfolio of skills and experience. Other benefits of working with an external consultant include:
Cost savings – you pay only for what you need, in contrast to hiring a salaried employee to provide the same services
Availability – consultants are available to take on projects when you need them to, unlike full-time employees who must balance consulting projects with ongoing tasks
Objectivity – external consultants are usually less biased and have a healthier distance from challenging business situations
Expertise – consultants often specialize in a field, so they bring a depth of experience and a portfolio of high-level skills to their work
Resources – consultant are connected to resources in their agency that can provide your organization with the information, software, skills, tools, etc. that you need
Benefits of Working with SIGMA's Leadership Consultants
There are many benefits to working with a consultant – and there are a few added benefits to working with SIGMA. Here's what sets us apart:
Methodology – We've spent over 50 years developing science-based assessment products and leadership coaching services
Experience – We have conducted over 4 million assessments and received nearly 4,500 academic citations
Results – We have worked with more than 8,500 public and private organizations across North America, and over 400 of our clients have been with us for more than 10 years
Maximize Leadership Potential in Your Organization
Contact SIGMA today to learn how our leadership consulting team can help further develop leaders in your organization.
Meet Our Team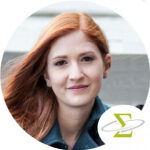 Erica Sutherland, Ph.D.
SENIOR CONSULTANT & EXECUTIVE COACH
.
Erica completed her Ph.D. in Industrial-Organizational psychology at Western University. She is a Senior Consultant at SIGMA, where she delivers consulting services and Succession Planning solutions to clients. As a member of SIGMA's executive coaching team, Erica works one-on-one with leaders to develop talent. She also brings her expertise in measurement and psychometrics to the R&D team, assisting with the development and validation of SIGMA's many assessments.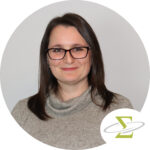 Brittney Anderson, Ph.D.
LEADERSHIP CONSULTANT & EXECUTIVE COACH
.
Brittney is a member of our coaching and consulting team. She brings her expertise in evidence-based practice to provide companies with leadership solutions that meet their needs. Primarily, Brittney helps her clients prepare for their future with succession planning and comprehensive leadership development programs. As an executive coach, she helps leaders hone their skills using a process-based approach to development.
.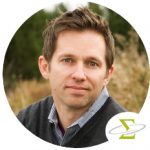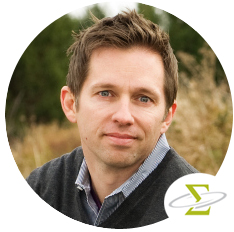 Glen Harrison
VICE PRESIDENT
.
Glen oversees SIGMA's sales and marketing activities. As a skilled presenter and trainer, he has designed and delivered engaging and entertaining workshops and webinars to help leaders and HR professionals enhance their understanding of how our products and services can be used to realize potential within their organizations.
.