SIGMA Success Profile™ Template
Build Success Profiles with the SIGMA Success Profile™ Template
The SIGMA Success Profile™ template is a worksheet designed to describe the leadership talent needed for success in a critical role as part of the succession planning process. The goal of this worksheet is to outline the knowledge, skills, abilities, and competencies needed for this role, both now and in the future. It will provide you with a clear, comprehensive list of the requirements of a role, and can act as a comparison against which to evaluate succession candidates, ensuring a more simplified selection process. This worksheet is best used following the identification of high-impact roles within the organization. Consider using our Critical Role Identification Worksheet to help with this process. To begin, download the SIGMA Success Profile template.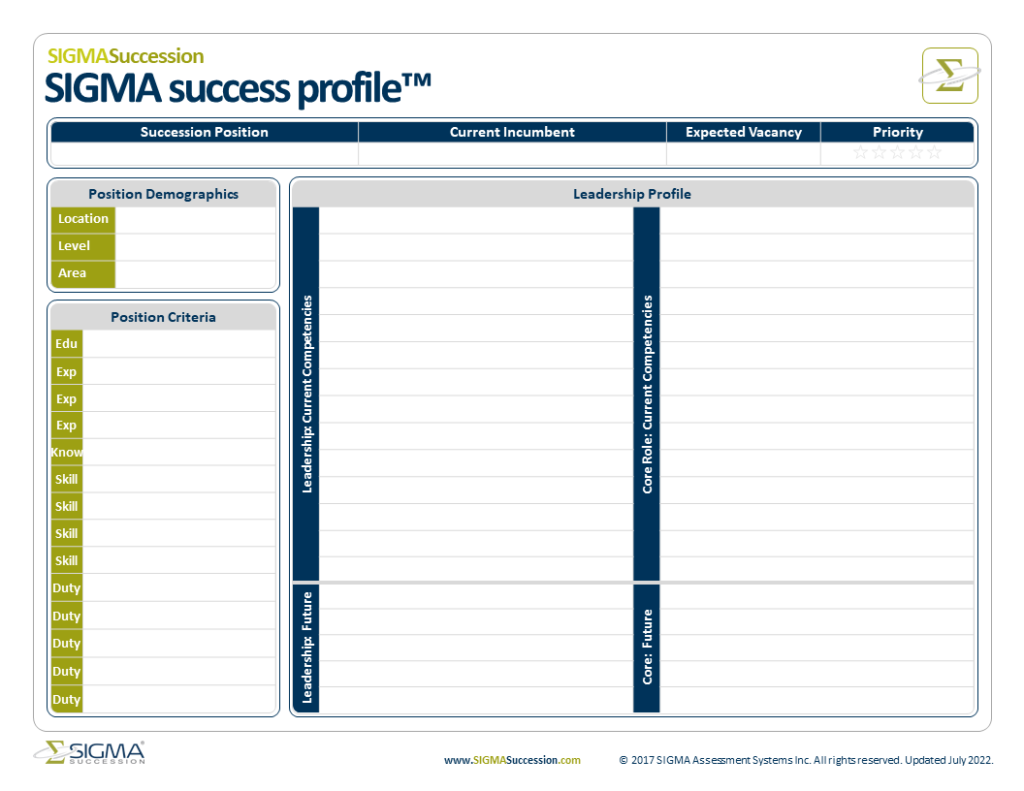 Benefits of the SIGMA Success Profile
The SIGMA Success Profile is an immensely valuable tool that offers a clear understanding of the specific responsibilities and requirements associated with each critical role. It can be used to:
Align job requirements with true indicators of success.
Select and hire employees who are a good fit for each role.
Establish role clarity.
Create effective onboarding programs.
Draft targeted employee development programs.
Conduct objective, effective performance reviews.
Troubleshoot areas where knowledge, skills, experiences, or competencies need development.
How to Create a SIGMA Success Profile
To begin creating a SIGMA Success Profile, first choose a single focal role. When completing the SIGMA Success Profile template, try to separate the role from the incumbent currently in the position. There will likely be plenty of overlap, but it is important to avoid solely focusing on the individual presently in the critical role. Doing so may cause significant characteristics to be overlooked.
1. Start with Demographics
Begin with basic demographic information. Use the results from the Critical Role Identification Questionnaire to indicate eligible exit year and urgency. Next, list important role information, such as location, level, and number of direct reports.
2. List Position Criteria
Use the job description for this role to list the position criteria, including: * Necessary education * Required experience * Valuable skills * Role duties and responsibilities.
3. List Current Competencies Required for the Role
As part of the SIGMA Success Profile, list the current personal characteristics and competencies required for the job. This may include factors such as personality, ability, disposition, and skills. For advanced leadership roles, we suggest listing both the skills required for the focal role, as well as those skills required to be successful as members of the senior management team.
4. Consider Future Competencies
Consider the requirements for the future of this role, including any characteristics needed to stay current with industry trends, or any traits best suited for the future of the organization. Align these competencies with strategic planning where possible. Once the SIGMA Success Profile template is complete, there should be a clearer understanding of the requirements for success in this role. Following the completion of the SIGMA Success Profile template, the next step in the succession process is to nominate successors for each critical role.
Need Help Getting Started?
SIGMA's Succession Planning Launch offers a simple and cost-effective way to build a robust succession planning process and ensure your organization's leadership is positioned for success and prepared for the unknown.
Contact us to learn how we deliver a full year Succession Implementation Plan for each member of your leadership team in just two half-day workshops.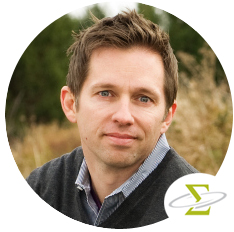 Talk to an Expert
Glen Harrison is an organizational transformation consultant and succession planning expert. Over the course of his career, Glen has worked with one-third of the Fortune 500 list and with every level of government in Canada and the United States. Having worked with numerous clients to build robust succession plans from the ground up, Glen has extensive experience in the application of SIGMA's products and services to help organizations realize their people potential. If you are interested in learning more about SIGMA's succession planning services, send Glen an email or give him a call. He'd be pleased to chat with you.