"The president of the United States gets 100 days to prove himself. You get 90."

– Michael D. Watkins
First impressions matter. That's why your first three months in a new position are especially important. For all employees, but for new leaders especially, these 90 days are a chance to get off on the right foot and set a positive trajectory for your career. In this post, we will take a look at how you can set yourself up for success with a strong 30-60-90 day plan.
What is a 30-60-90 Day Plan?
30-60-90 day plans outline your goals, as well as the steps you need to take in order to accomplish them. We recommend setting concrete goals for the first year, rather than simply focusing on the first three months. Spend some time thinking ahead to where you'd like to see yourself and your team in the next 5 to 10 years as well. This will give you a long-term vision, ensuring that any tasks you outline for your first 30, 60, and 90 days will benefit your goals overall.
Why do 30-60-90 Day Plans Matter?
Having a plan for your first three months is imperative to making a strong impression. Why? Because a lot happens in the first 90 days:
Co-workers form an opinion of your character and competencies
Followers decide whether they can trust and depend on you as a leader
Superiors decide to what extent they can entrust you with significant tasks and responsibilities
These initial relations will set the trajectory for your career. The way you relate to co-workers and followers will set a foundation for your team, and your performance will determine how superiors fit you into their own vision for the future of the organization.
Having a 30-60-90 day plan has also become more important in light of recent trends in the business world. Specifically, the pace of transition has gone up dramatically, and management is turning over faster and faster. Since 2013, the average turnover time at the vice president level has decreased from 3.2 years to 2.2 years.[1] This makes it even more important to master your first few months on the job.
How to Create a 30-60-90 Day Plan
Creating a strategic plan can be trickier than it seems. That's why we've developed a template to help you get started. Take a look at the 30-60-90 day plan template below (click the download button if you would like to use a form-fillable PDF). This template is designed to help you outline your goals and what you need to do to accomplish them in your first three months on the job.
1. Outline Your 5 Year Vision
Start by outlining your five-year vision. Where do you see yourself in five years? Your team? Your organization? This will help you create a long-term vision and ensure that the things you do on a monthly, weekly, and daily basis can be aligned towards accomplishing that goal.
2. Outline Your Learning Goals
Next, think of what you would like to learn on-the-job. As much as you are expected to perform, your job should also be a place where you have the opportunity to grow personally and professionally. Outline your goals and be intentional about finding ways to invest in them. This will show initiative, and ambition, which is likely to encourage management to invest in you and further your development as well.
3. Create an Action Plan
Finally, outline the impact you would like to have in the next 30, 60, 90 days. What do you want to accomplish? How will you go about doing that? How will you know when it's done? Make a list of goals, as well as concrete tasks you will need to complete on a monthly (or weekly and daily) basis in order to achieve your goals. Where possible, list success metrics that will help you determine when, and to what extent your goals have been accomplished.
30-60-90 Day Plan Template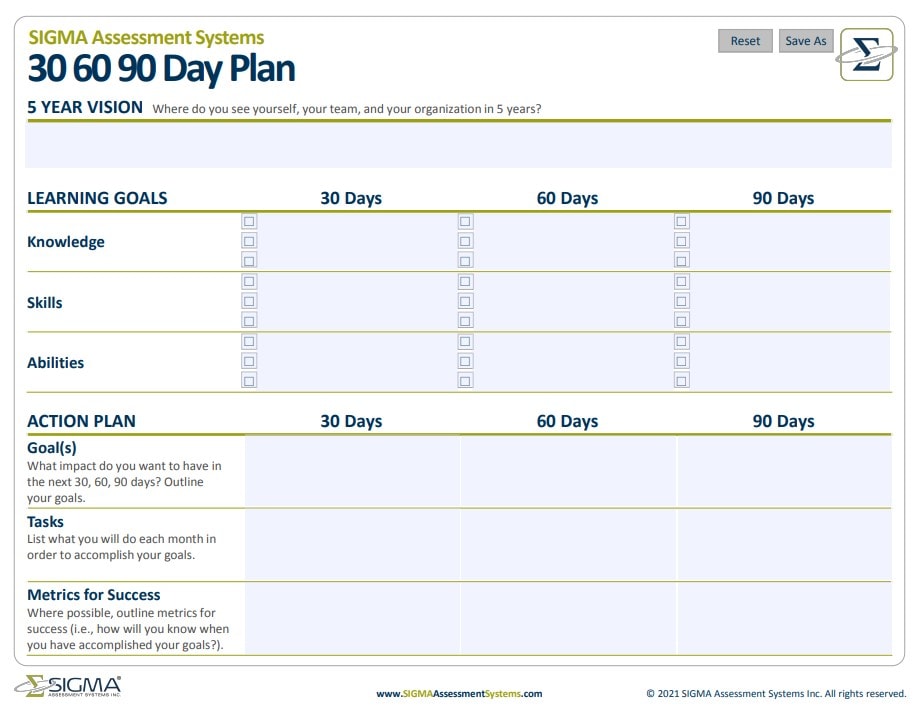 Looking for More?
If you would like help completing your 30-60-90 day plan, contact us below! We have a team of expert coaches and consultants who would be happy to discuss your goals with you. If you would like additional resources for leadership development, visit our leadership skill development library and check out SIGMA's coaching and training programs for additional support.
[1] Watkins, M.D. (2013). The First 90 Days, Updated and Expanded: Proven Strategies for Getting Up to Speed Faster and Smarter. Harvard Business Review Press.