The Employee Screening Questionnaire-2 (ESQ2) is a pre-employment assessment that quickly identifies top candidates during the hiring process by measuring specific characteristics linked to productive and dependable employees. After completing the ESQ2, test takers will receive this user-friendly report showcasing the results, along with tools and techniques to enhance leadership competencies.

ESQ2 Report Contents
Page 1 – Introduction
Page 2 – Scoring
Page 3 – Descriptions of High & Low Scorers on Performance Dimensions of the ESQ2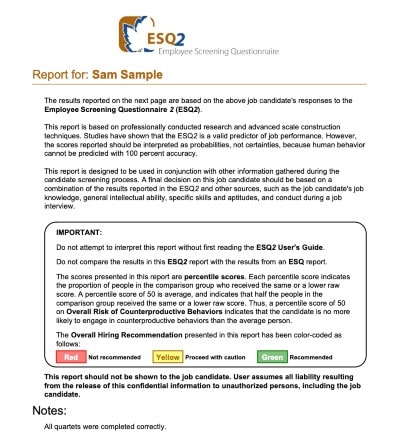 Introduction
This report is based on professionally conducted research and advanced scale construction techniques. Studies have shown that the ESQ2 is a valid predictor of job performance. However, the scores reported should be interpreted as probabilities, not certainties, because human behaviour cannot be predicted with 100 percent accuracy.
This report is designed to be used in conjunction with other information gathered during the candidate screening process. A final decision on this job candidate should be based on a combination of the results reported in the ESQ2 and other sources, such as the job candidate's job knowledge, general intellectual ability, specific skills and aptitudes, and conduct during a job interview.
Scoring
On this page, the ESQ2 will provide the test taker's results and separate them into the following sections:
Positive work behaviours
Risk of On-The-Job Delinquent Behaviours
Overall Hiring Recommendation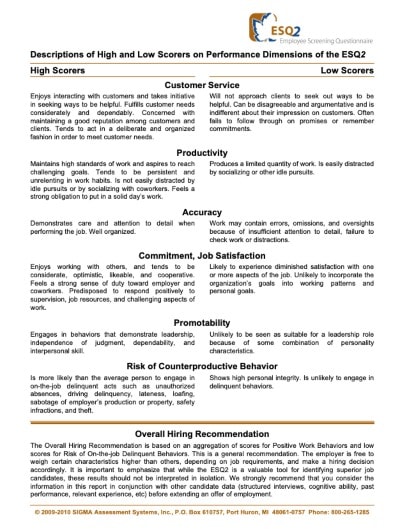 Descriptions of High & Low Scorers on Performance Dimensions of the ESQ2
This page provides descriptions of high and low scorers on performance dimensions for the ESQ2, including:
Customer Service
Productivity
Accuracy
Commitment, Job Satisfaction
Promotability
Risk of Counterproductive Behaviour
Overall Hiring Recommendation
Ready to Administer the ESQ2?
To gain access to a customized version of this report and more, order the Employee Screening Questionnaire-2 online today or contact SIGMA to find out more about our employee assessments.