This webinar has passed. If you would like a copy of the recording please send us an email.
If you're in business, but business doesn't come naturally to you, you're not alone. Many people who begin with trades or technical education end up in management positions that they aren't entirely equipped for. If this sounds like you, you've come to the right place!
Join SIGMA's Business Skills 101 and we'll walk you through the basics of business acumen and how to build it. You'll learn:
• What business acumen is
• What skills are needed in order to be "business savvy"
• Tips on how to become more business savvy
• Practical ways you can practice your business savvy skills today
• Live Q&A
If you have a question that was not answered during the session, please reach out to our consultants.
We are always happy to chat!
Your team at SIGMA
SIGMA is recognized by the ATD Certification Institute to offer educational programs that can be
used towards initial eligibility and recertification of the Certified Professional in Talent Development (CPTD)
and Associate Professional in Talent Development (APTD) credentials. This webinar is worth 1 professional development credit.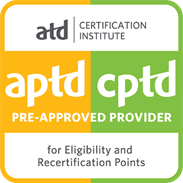 Note: the "Add to calendar" button below will not give you the zoom link for this webinar – in order to access the zoom link, please register at the link above