Effective communication is one of the most important skills for professionals (executives, managers, and subordinates alike). But not many people have been taught how to communicate effectively! SIGMA wants to help you bridge that gap.
Join our webinar, Communication Skills 101, and you'll learn:
• Why effective communication is important
• What effective communication looks like
• Common barriers to communication
• A deep dive on listening, speaking, and non-verbal cues
• Tips for communicating more effectively
• Live Q&A
SIGMA is recognized by the ATD Certification Institute to offer educational programs that can be
used towards initial eligibility and recertification of the Certified Professional in Talent Development (CPTD)
and Associate Professional in Talent Development (APTD) credentials. This webinar is worth 1 professional development credit.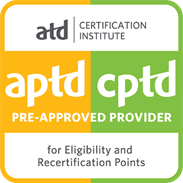 Note: the "Add to calendar" button below will not give you the zoom link for this webinar – in order to access the zoom link, please register at the link above