This webinar has passed. Join us via the recording below! If you have any questions that were not answered during the session, please don't hesitate to reach out to us: athompson@sigmaleader.com.
Integrity is not something most people learn about in school. You might have heard that integrity matters, but have you studied the principles and practices of what integrity actually looks like on the job?
If your experience has been like most, the answer is "probably not."
If you would like to learn how integrity could benefit your organization, this webinar is for you! Register below to learn:
• The history, philosophy, and psychological anatomy of integrity
• Common barriers to integrity
• Practical tips for building personal, interpersonal, and organizational integrity
The webinar will conclude with a live Q&A.
SIGMA is recognized by the ATD Certification Institute to offer educational programs that can be
used towards initial eligibility and recertification of the Certified Professional in Talent Development (CPTD)
and Associate Professional in Talent Development (APTD) credentials. This webinar is worth 1 professional development credit.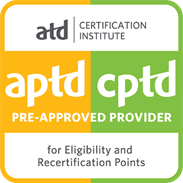 Note: the "Add to calendar" button below will not give you the zoom link for this webinar – in order to access the zoom link, please register at the link above