How to Transition Succession Candidates
How to Transition Succession Candidates
If your company has a succession plan in place, you are prepared for vacancies to arise and you have qualified employees to fill them. Critical roles have been identified, potential candidates have been nominated, and individuals have made progress towards key development goals. Although this process has put your company in a good place, you may still have questions about how your Succession Advisory Team can support a smooth transition.
When should I notify candidates and the organization about the new successor?
Adjusting to change takes time, so it is best to announce the results of an executive succession search as soon as possible. Sharing the news promptly will give stakeholders maximal time to prepare for the transition. However, there is a process to sharing this information, and the Succession Advisory Team should carefully consider who to inform and when. First, it's best to let the incumbent in the position know that their eventual replacement has been chosen. Next, tell the successful candidate that they have been selected. Should the candidate accept, inform the unsuccessful candidates who were considered for the role before sharing the news with the rest of the organization and external stakeholders. Approaching this process with speed and efficiency can not only help to retain successful candidates that may have been looking for opportunities elsewhere, but also ensure transparency in your succession process. If you are worried about turnover in unsuccessful candidates, consider how you can use developmental opportunities and other benefits to entice high-potential candidates to remain with the organization.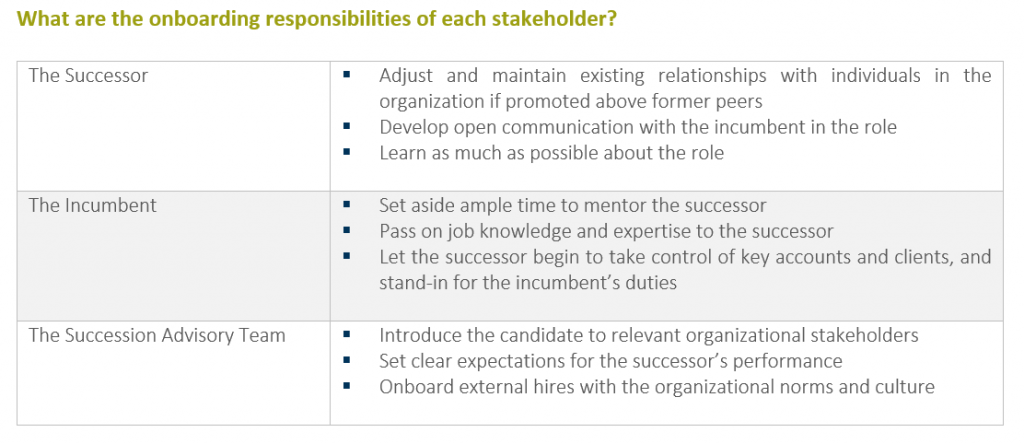 How can my organization onboard succession candidates?
One of the best ways to onboard succession candidates is to offer job shadowing opportunities. This should happen promptly after a successor has been identified. Job shadowing provides on-the-job training and allows successors to gain valuable practical experience. It also gives them time to build a strong rapport with the incumbent, which facilitates learning and knowledge transfer. During job shadowing, the successor should be given responsibility for some aspects of the role, giving them time to learn not only the tasks they will be required to complete, but also how to do so in an independent manner. Job shadowing should also be an ongoing process, rather than a one-off experience. It continues and grows over time as the successor becomes more comfortable with the duties of the role. Some examples of shadowing include inviting the successor to important meetings, conferences, phone calls, and trips. Successors should use this time to become familiar with key customers, vendors, suppliers, and other stakeholders.
Looking for More?
If you're looking for support on establishing and maintaining a strong succession plan, SIGMA is here to help! Our Succession Planning Launch Series will guide your team in completing six months of work in just 2 half-day sessions. We deliver a custom 12-month succession plan for each of your organization's critical roles and walk you through the implementation. We also support the process with templates, activities, and suggested timelines to ensure your succession plan will thrive. These resources can then be organized by the software described above.
Want to start small? No problem! You can also register for one of SIGMA's open-enrollment Succession Planning Certification Workshops. In these workshops we'll introduce our six-step succession planning process and train you on how to scale it across your organization. For more tools and templates, check out our resources, download our Succession Planning Guide, or contact us below.