The MEIA-R is a personality-based assessment of emotional intelligence (EI) that measures the tendency to perceive, understand, regulate, and express emotions in the self and others. Since the original version of the MEIA was published in 2006, thousands of individuals have used the assessment to enhance their awareness and understanding of EI and develop their EI capabilities. The MEIA-W-R tailors the content of the MEIA-R to assess EI in a work setting. Download the psychometric summary today to learn more about how the MEI-R differs from the MEIA-W-R.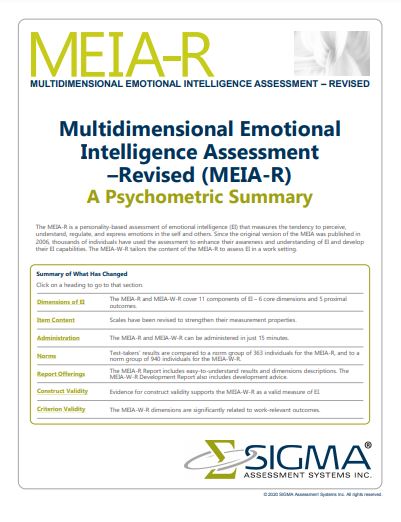 Summary of What Has Changed
Dimensions of EI –

The MEIA-R and MEIA-W-R cover 11 components of EI – 6 core dimensions and 5 proximal outcomes.

 

Item Content –

Scales have been revised to strengthen their measurement properties.

 

Administration – The MEIA-R and MEIA-W-R can be administered in just 15 minutes.

 

Norms –

Test-takers' results are compared to a norm group of 363 individuals for the MEIA-R, and to a norm group of 940 individuals for the MEIA-W-R.

 

Report Offerings –

The MEIA-R Report includes easy-to-understand results and dimensions descriptions. The MEIA-W-R Development Report also includes development advice.

 

Construct Validity –

Evidence for construct validity supports the MEIA-W-R as a valid measure of EI.

 

Criterion Validity –

The MEIA-W-R dimensions are significantly related to work-relevant outcomes.

 
Ready to Assess Your Team's Emotional Intelligence?