The MEIA-W-R (Multidimensional Emotional Intelligence Assessment – Workplace – Revised) defines emotional intelligence as a willingness to perceive, understand, and regulate emotions in the self and in others. The MEIA-W-R measures 11 distinct aspects of EI as expressed in the workplace.
This report presents your MEIA-W-R results. It describes your scores on each of the 11 MEIA-W-R dimensions. This includes your relative score compared to the norm sample and a more in-depth explanation of each MEIA-W-R dimension. Because each dimension has workplace performance and development implications, the report also includes development advice.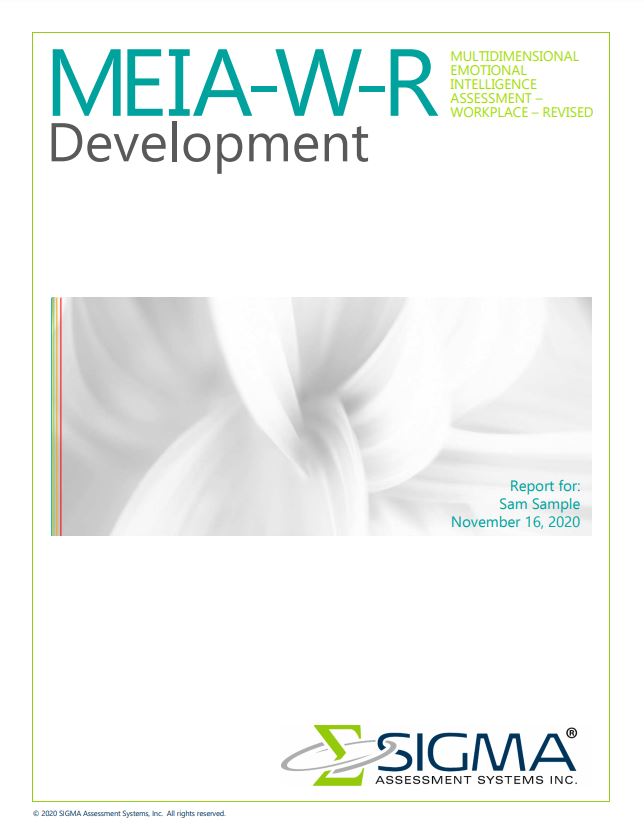 MEIA-W-R Report Contents
Page 4 – Interpreting the Report
Page 5 – The MEIA-W-R Approach
Page 6 – MEIA-W-R Results
Page 10 – MEIA-W-R Dimension-by-Dimension Results
Determine Your Team's EI with the MEIA-W-R Assessment
To gain access to a customized version of this report and more, order the MEIA-W-R assessment online today or contact us to find out more about our leadership development assessments.