When it comes to succession planning, we often look to other organizations as examples to replicate. Some of the best examples come from the world of sports, specifically the National Hockey League (NHL). Since the advent of the salary cap in 2005, teams can't plan on keeping players for their entire career and have been forced into always looking several years into the future. Fortunately, the league has some powerful tools built into its structure to facilitate this process. We'll look into a few and how you can apply them to your world.
Minor League System
One of the most important tools for NHL teams are their minor league affiliates. Specifically, the American Hockey League (AHL) is a starting place for recent draft picks to earn their way into the NHL. Being a lifelong Toronto Maple Leafs fan, I am most familiar with how the Leafs have used their AHL affiliate, the Toronto Marlies, as a safe place to develop their players, coaches, and front office staff.
AHL teams, the Marlies included, often play in the same style, using the same systems as their NHL counterparts. This creates a perfect development environment and easier transition once the player is promoted to the NHL. It also allows the coaches and general managers (GMs) from NHL teams to monitor up-and-coming talent, discussing player progress, development, and potential with AHL leadership.
How to Apply
With the exception of superstars like Austin Matthews, the Toronto Maple Leafs rarely put their players directly on the NHL roster. They understand that the best way to set up talent for success is developing them (sometimes for 2 or 3 years) and helping them gain experience in the AHL. Start thinking like the Maple Leafs and look for ways to get your high-potentials in a safe environment to build their skills. Be sure to also provide them with opportunities to stretch their abilities, experience failure, and learn from their mistakes. In your organization, look for smaller projects, or those assignments with less visibility, that allows you to prioritize growth and provide your high-potentials with opportunities to take safe risks.
"Ideally, each club has five or so players in AHL who will be cultivated and become contributors at the NHL level."1
Talent Depth Charts
The Maple Leafs and teams in all sports create depth charts for every position. Every player, from the superstars to the relatively unknowns, have back-ups in place. With injuries, performance decline, and limited budgets, rosters are always changing. While the focus is typically on superstars, many teams will tell you that their depth and their adaptability to change is what gives them an edge. However, none of this is left to chance. Carefully managing depth charts and having a plan to develop players will ensure a team's bench strength remains a competitive advantage. Additionally, from the players' perspective, being candid about where everyone is on that depth chart provides a clear and transparent path for moving up and seizing opportunities. Depth charts leave no room for ambiguity, and this is a good thing.
How to Apply
Have a clear understanding of your Bench Strength by creating a Succession Bench for each leadership position, categorize your bench, document gaps of successors, and have a plan for closing those gaps. Don't forget to have transparent communication with team members about their position on the bench, the process for changing their position on the bench, and their timeline for potentially moving up.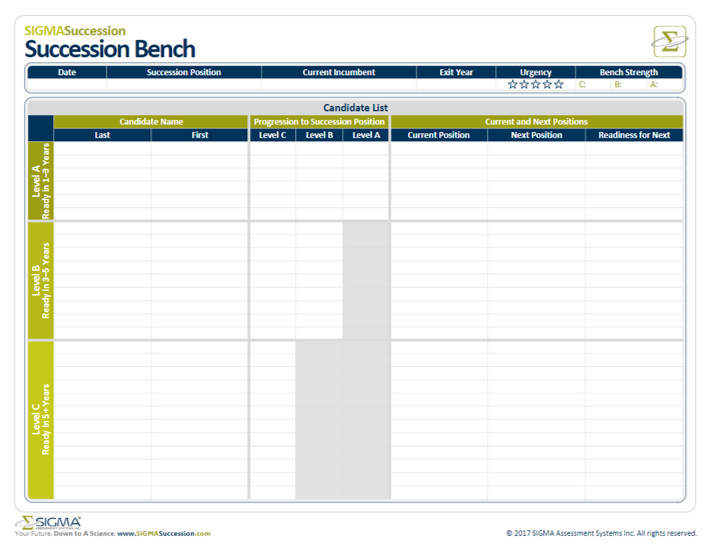 Promote From Within
While not always possible, successful franchises tend to grow and build their teams internally. Not only is this the most cost-effective option, it also sends a strong message to developing teammates that they will be rewarded for their growth. A perfect example of this at the management level is the recent promotion of Kyle Dubas to GM of the Leafs. His previous position of Assistant GM included taking on the GM role for the Toronto Marlies. In his time with the Marlies, he cultivated his own coaching skills while he was developing players who went on to have success when promoted to the NHL team (Travis Dermott, Kasperi Kapanen, and Andreas Johnsson to name a few). In addition to assisting in the growth of some incredible talent, he had a hand in winning the Calder Cup. With all his previous experience with promising Marlies talent, Dubas has the added advantage of already having a strong relationship with many of the players that will inevitably be making the jump to the big club over the next several years.
Promoting from within is not only a good thing to do in terms of morale and motivation, it's also the smartest thing to do for the organization. In my humble opinion, the best way to show that "we value our employees" is to give them opportunities to grow and to reward that growth. Notice, I used the word grow and not succeed. I am guessing that the Toronto Maple Leafs promotion of Dubas was based more on his growth, his ability to develop players, and on their eventual performance when given their NHL opportunity than it was on winning the championship. Granted, winning the championship doesn't hurt.
How to Apply
There is obviously much we can learn from the Toronto Maple Leafs. However, why are successful sports teams typically better at Succession Planning than most organizations? Quite simply, they need to be. The average NHL career is short. Teams must always manage their rosters and be prepared for the worst case scenario to ensure they stay competitive. It sounds intense, but is your organization all that different?
A typical career of an NHL player can be summarized with one word. It's short! Over half of all NHL players play less than 100 games during their career and for approximately 5 percent of players, their first NHL game is also their last. If we look at this from a different angle, long careers are extremely rare. Only 4 percent of players (that's 1 out of 25) dress up for more than 1000 games.1
If you're like most organizations, you have had some stability in your senior management team, and you likely have several key positions ready to retire in the next 5 years. From this perspective, your organization is similar to a typical NHL team with an incredible amount of change being your new reality for at least the next several years. Now is the time to consider your roster for replacing your top leaders.
Use your Succession Bench to identify your succession candidates. Begin investing time, attention, and other resources into their development. Look for opportunities to have high-potentials work on new tasks, broaden their knowledge, and hone their existing skills. Work together with your employees to create mutually-beneficial goals for their development that will improve their performance and keep them engaged.
Toronto's superstar Mitch Marner is 21 years old and likely has a long career ahead of him. However, I can guarantee that the team has a succession plan in place if he doesn't. Regardless of your organizations structure, you need to be prepared for the future. Change is inevitable. Are you ready?
How We Can Help
Discover our Succession Planning solutions and ask us how we can help your organization select and develop the next generation of talent.


---
1 Warnsby, T. (2018). Maple Leafs investing in Marlies to build Cup contenders at both levels. Retrieved from: https://www.cbc.ca/sports/hockey/nhl/toronto-marlies-tim-wharnsby-1.4563827 (Accessed Feb 27, 2019).
2No Author. Average Length of an NHL Player Career. Retrieved from: https://www.quanthockey.com/Distributions/CareerLengthGP.php (Accessed Feb 27, 2019).