The LSP-R™ Administrator's Guide provides an overview of the LSP-R assessment and demonstrates how to use the Focus Report to create development plans. Download the guide below to kick-start your team's talent development process today.
LSP-R Administrator's Guide Agenda
Review & Discuss Results
Focus Activity 1
Focus Activity 2
Action Plan
Next Steps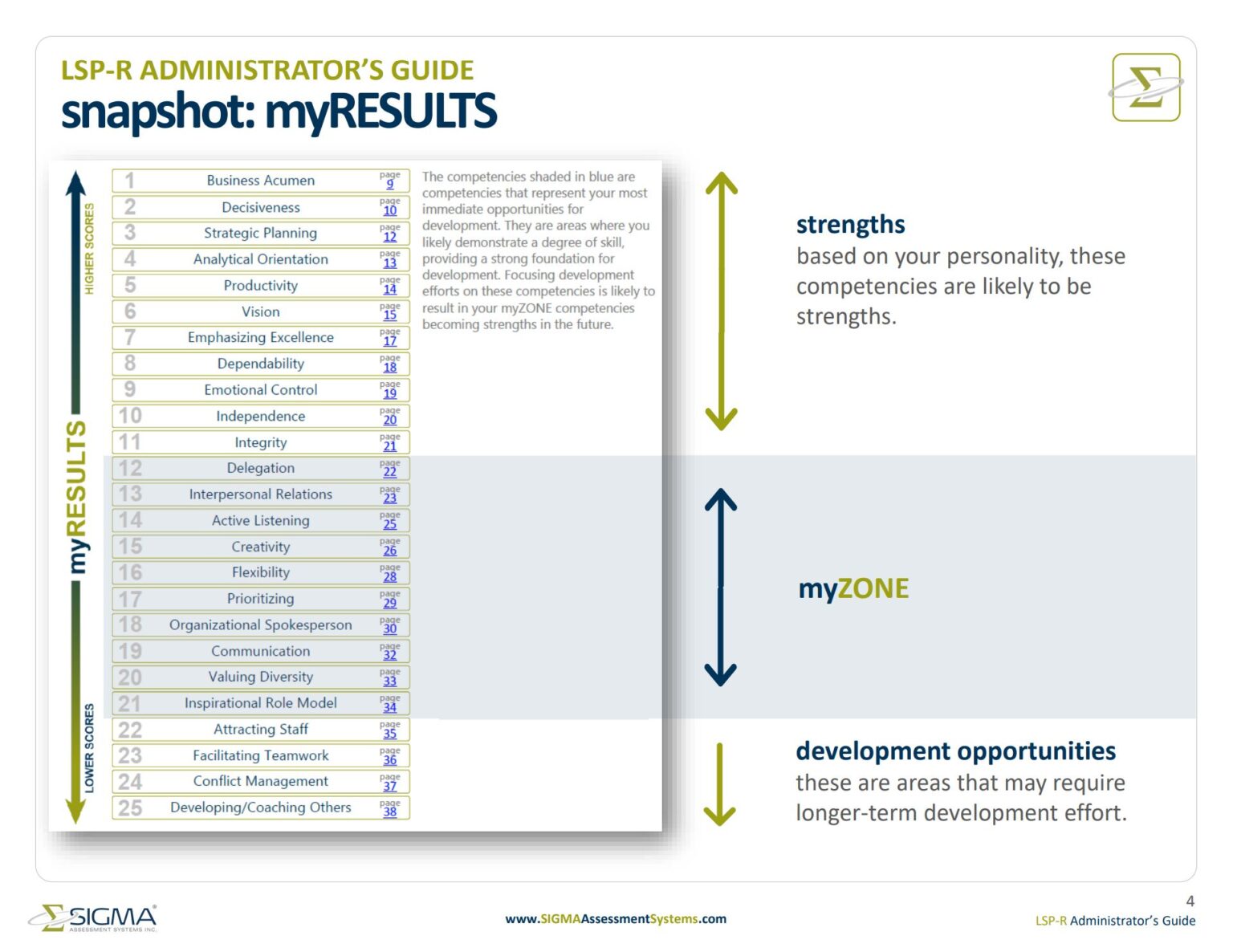 Here, we will ask you to turn to the Snapshot of your results (pg. 3-4 in your Focus Report). After reviewing your results, ask yourself the following questions:
Do these results resonate with you?
Is anything surprising to you?
Do you notice patterns or trends?
What do these results tell you about yourself as a leader?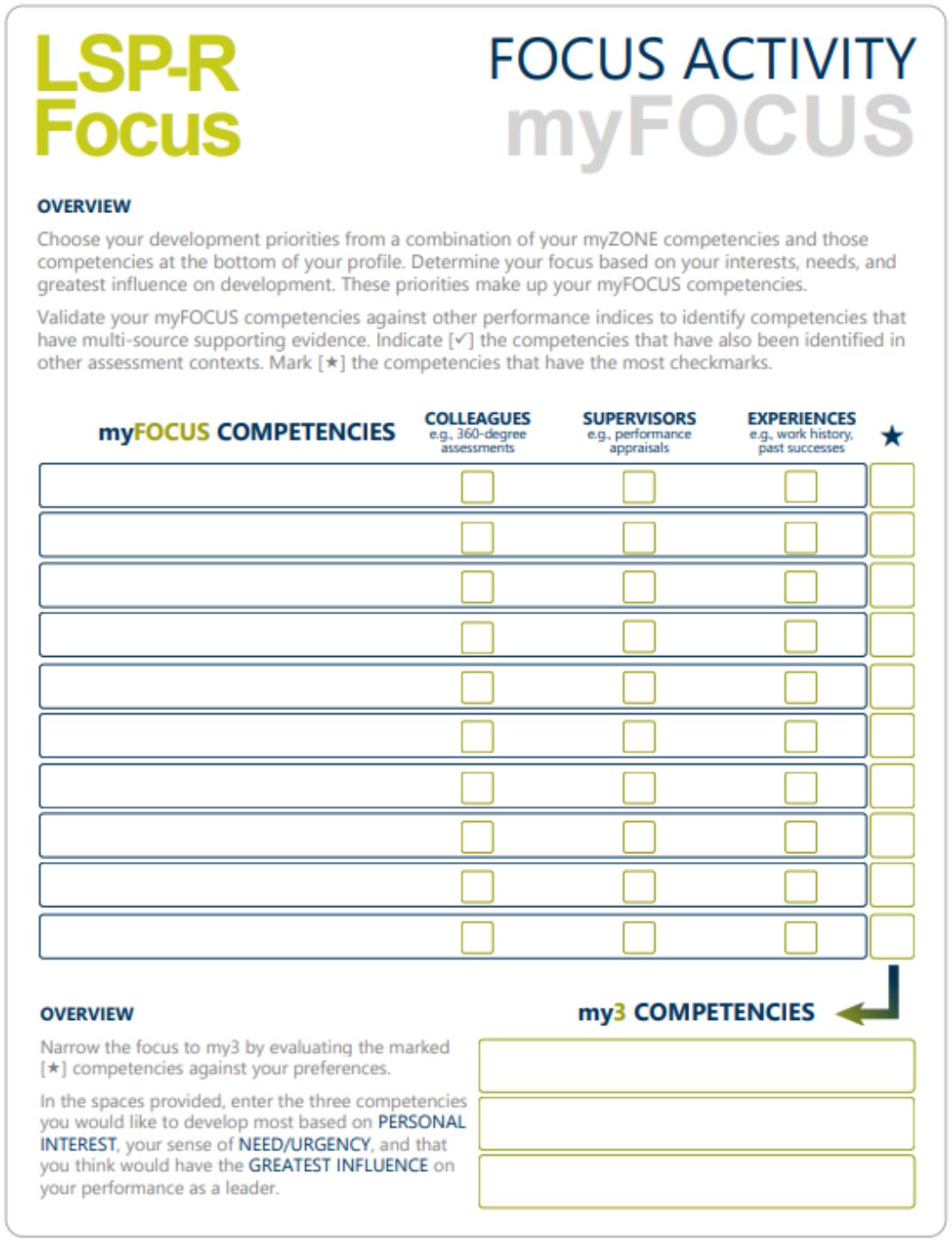 The purpose of this activity is to help you choose your top three competencies for development (my3 competencies). The decision will be based on comprehensive multi source feedback. To complete this activity, you will:
Select your myFocus competencies
Get input from colleagues
Get input from supervisors
Reflect on your experiences
Evaluate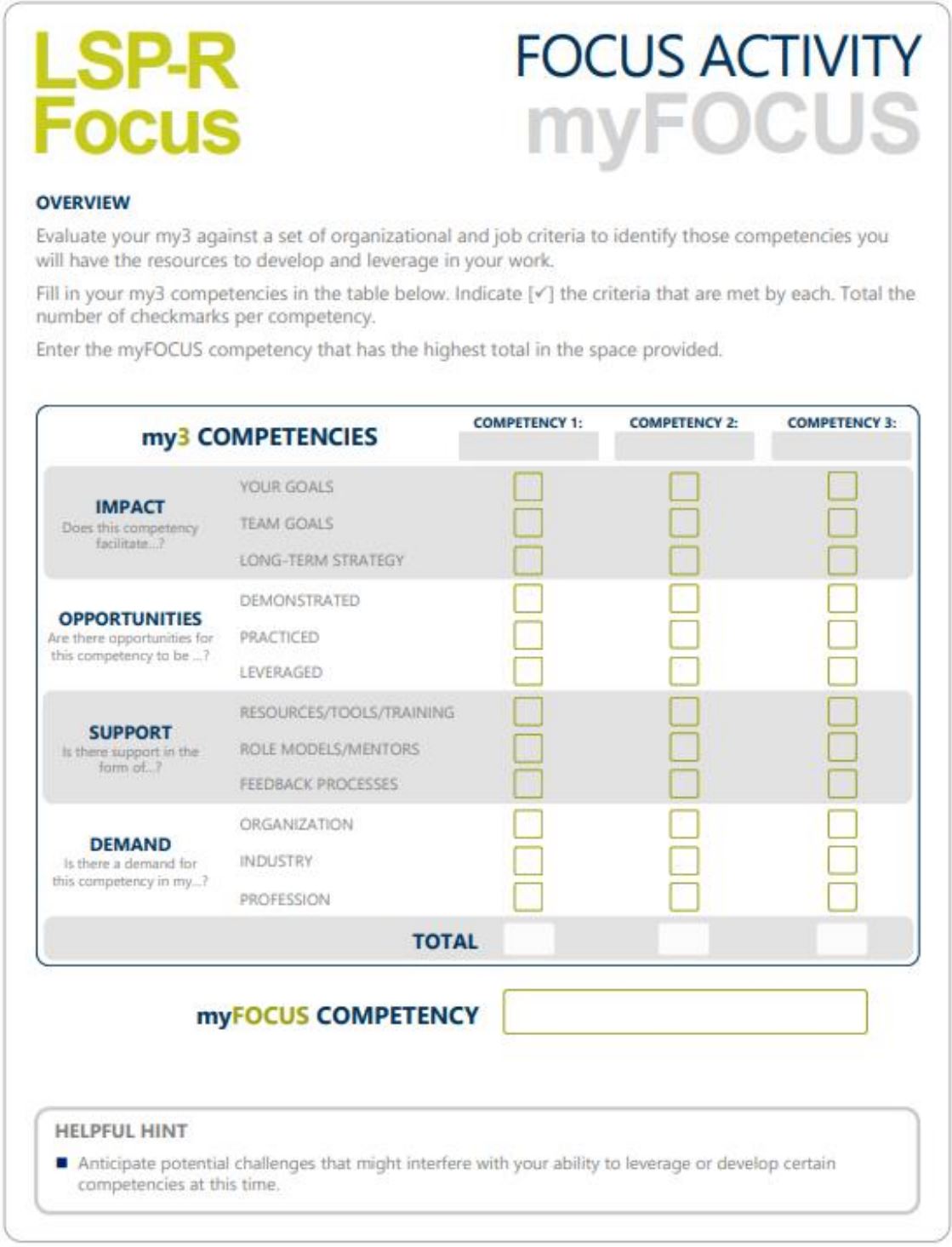 This second activity is intended to help you narrow your my3 competencies down to a single myFOCUS competency.
You'll start by filling in your my3 competencies in the first row of the table (labeled my3 COMPETENCIES). Next, you will indicate the criteria that are met by each competency.
Once you are finished, add up the scores for each competency and write the total in the boxes at the bottom of each column. Find the competency that scored highest, and write this in the space below, labelled myFOCUS competency. This will be the competency you create a development plan for first.
You've arrived at the final activity in your LSP-R Focus Report. Here we are going to create a development plan for the myFOCUS competency that was selected in the previous activity. To complete your development plan, you'll need to turn to page 7 in your Focus Report.
Enter your myFOCUS competency in the top row, then brainstorm corresponding actions or behaviors that you can STOP, START, and CONTINUE in order to develop that competency. Plan how you will engage in each behavior and set a goal for when you'd like to have each completed.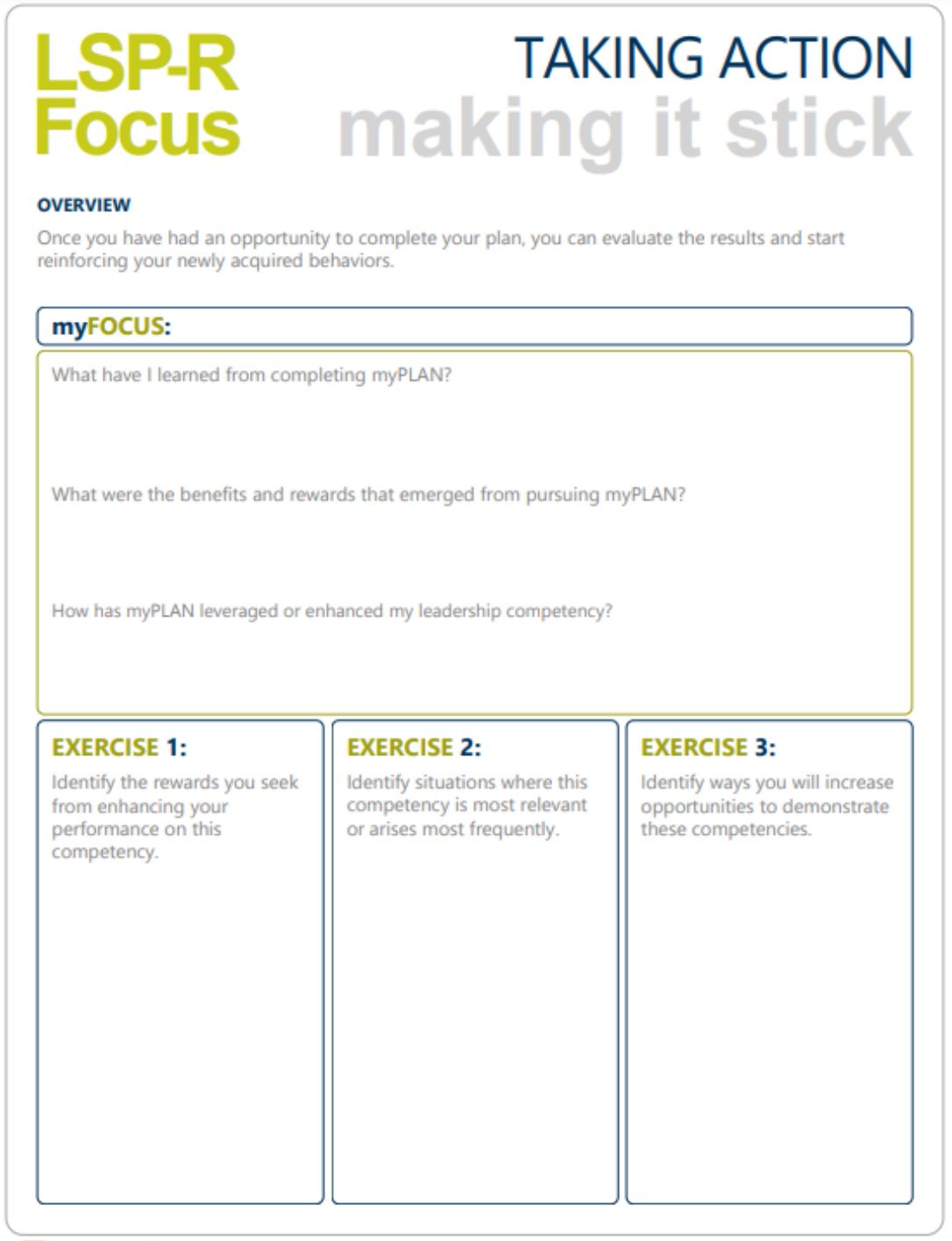 Set aside half an hour at the end of each month to complete this template, and discuss with a manager, supervisor, or mentor
This person will act as your coach
Coaches are important because they are often able to facilitate job shadowing, stretch assignments, or share resources you might not otherwise have access to
Studies have also shown that coaching makes it significantly more likely that candidates will achieve their development goals, and that the behaviour will remain long-term
If the group you are taking through the LSP-R has no managers, supervisors, or mentors apart from you, and you may not be able to coach them all yourself, SIGMA can help! We offer group and individual coaching and would be happy to support your team as they implement their development plans.  
We also offer 1-hour Lunch and Learns. These online, group training sessions are convenient, practical, and engaging. They focus on developing a particular competency (i.e., communication).
Evaluate Your Leaders with the LSP-R Focus Assessment
Order the LSP-R Focus assessment online today or contact us to find out more about our leadership development assessments.