Developing Character Book
Now Available!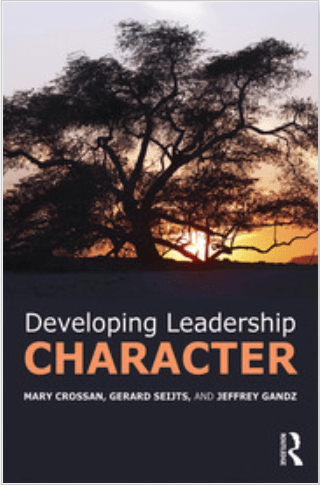 The authors of our Leadership Character Insight Assessment (LCIA) and Ivey Business School Faculty Mary Crossan, Gerard Seijts, and Jeffrey Gandz have just released their new book, Developing Leadership Character.
The book focuses on the element of leadership that has largely been neglected in the literature: character. Often thought to be a subjective construct, the book demonstrates the concrete behaviors associated with different character dimensions in order to illustrate how these behaviors can be developed, and character strengthened.
Based on research involving over 300 senior leaders from different industries, sectors and countries, Crossan, Seijts, and Gandz developed a model for leadership character that focuses on eleven dimensions. The book begins by setting the context for the focus on character in business, asking what character is and whether it can be learned, developed, molded or changed. Next, the book focuses on each dimension of leadership character in turn, exploring its elements and the ways in which it can be applied in a business setting. The book concludes with a summary of the key insights, an exploration of the interactions between the character dimensions, and a call to the reader to reflect on how to develop one's own and others' leadership character.
Bridging theory and management practice, this Developing Leadership Character will interest students and practitioners alike. Readers will benefit not only from a new, robust theoretical framework for leadership character, but will also learn how character can be developed further.
Click here to purchase your copy of the Developing Leadership Character book.
Learn more about the Leadership Character Insight Assessment (LCIA) by visiting the LCIA assessment page.