Leader Character Development Activity
"Appreciation is a wonderful thing. It makes what is excellent in others belong to us as well."

– Voltaire
SIGMA's consultants have created a new character development activity that taps into the power of appreciation. In this brief activity, you will be guided through an appreciation exercise that helps you identify specific strengths for up to three other members of your team. For each team member, you will note which of the 11 leadership character dimensions that individual exhibits as a strength, as well as describe what that strength looks like, and in what contexts the dimension is typically observed. Finally, you will have the opportunity to provide guidance on how that leadership strength may need to be balanced by other character dimensions. For more information on how to balance leader character dimensions read SIGMA's blog, Virtues and Vices: How to Balance Your Leader Character, and download the PDF guide.
Appreciate and Develop the Leader Character in Your Team
Why it matters: Everyone has character strengths, but many people do not recognize these strengths in themselves. This activity will help you to identify and appreciate the strengths of your team members using the leader character framework.
How it works: Download SIGMA's character spotting and appreciating character resource and work through the activity on your own or with your team.
Looking for More?
If you would like more resources for character development, take a look at SIGMA's Leadership Character Development Series. These resources were developed to complement our Leadership Character Insight Assessment, and include a series of PDF handouts focused on understanding and developing each dimension of leadership character.
Assess Your Character
In addition to feedback from co-workers, scientifically validated assessments provide an excellent source of information. We strongly recommend completing this activity in conjunction with our Leadership Character Insight Assessment (LCIA). The LCIA is designed to measure leadership character and provide leaders and potential leaders with practical insight for leadership development regarding:
What leader character is and why it is essential for building strong leaders and organizations
Key dimensions of character, their corresponding elements, and how they interact to influence leadership effectiveness
Character strengths
Information on how leaders can grow and develop on each character dimension
Assessments provide structured, objective feedback, which can help reduce the impact of personal biases on decisions regarding professional development. Using the LCIA alongside this activity will ensure that your team is receiving holistic, 360-degree feedback. To learn more about the LCIA, visit the website or speak with one of our consultants below.
Speak with a Consultant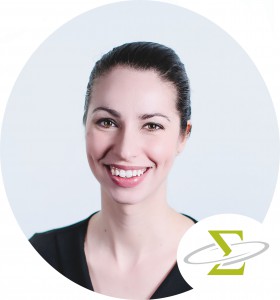 Ruby Nadler, Ph.D., Leadership Consultant
Ruby has a Ph.D in Cognition and Perception, as well as specific training in mindfulness and positive psychology. She brings this expertise to SIGMA's executive coaching programs. In 2015 she was awarded a two-year Ontario Centers of Excellence TalentEdge Fellowship, and her research has been featured on CBC, BBC Radio, Happify, and NPR. Call or email Ruby – she would be happy to answer questions about the LCIA, leader character, coaching, etc.
Phone: 1-800-401-4480 ext. 223