It should come as no surprise that a successful succession planning process demands an engaged and supportive CEO. In fact, we will not deliver our Succession Planning Launch Series unless the CEO is in the room for both sessions. Without CEO support, succession plans often fail to gain enough attention, resources, or priority to truly benefit an organization. With this in mind, we thought we'd discuss a few reasons why your CEO might be getting in the way of succession planning.
1. They don't see the value of succession planning
CEOs who don't see the value of succession planning will evade, postpone, or abandon the process for a variety of reasons. You may hear your CEO saying that
Succession planning distracts from day-to-day priorities
Planning for succession takes too much time
Planning for succession costs too much money
Establishing a succession planning process is too complicated
No critical roles are projected to be vacant soon
The company already has enough strong leaders to promote internally
Even if the company cannot promote internally, top talent can always be recruited externally
Having these concerns demonstrates that your CEO doesn't understand the value of succession planning, let alone the cost of not having a plan.
2. They see their position as permanent
Last year, in the United States alone, over 1,600 CEOs left their position. This exceeds the 1,257 CEOs who exited in 2008 during the Great Recession and is the highest turnover recorded since outplacement firm Challenger, Gray & Christmas, Inc. began tracking CEO departures in 2002.[1]
Clearly no CEO lasts forever; turnover, sickness, and retirement are inevitable. However, most CEOs take on their role with aspirations for their tenure, not plans for their departure. Your CEO's intention to remain with the company may bias them away from engaging in long-term succession planning. As a result, years go by without a succession plan in place, not only for the CEO, but for the senior management team at large.
3. They believe they have succession planning all under control
When asked about their succession planning process, many CEOs think they're on track if they have someone in mind for each leadership role. More often than not, that 'someone in mind' is simply the result of the successor's long-term relationship with the incumbent. This model for succession lacks any kind of formal process for identifying qualified succession candidates and developing their potential. In fact, promoting an incumbent CEO's personal protégé is little more than an embellished form of replacement hiring.
CEO's who believe they have succession under control also make the mistake of keeping succession plans to themselves. A proper succession plan should always be a company-wide initiative. Therefore, CEOs must involve the board, senior management, and the candidates themselves as they are groomed to step into the businesses' most critical role.
4. They've mistaken what succession planning is
SIGMA has worked with organizations across North America for more than 50 years, and we've seen that it's not uncommon for leaders to mistake what succession planning truly is. More often than not, leaders confuse replacement hiring for succession planning. In other cases, they underestimate the role that coaching and employee development plays in a proper succession planning process. In essence, succession planning is about building a leadership pipeline. This pipeline will develop a strong leadership bench from which your company can draw as needed to keep critical roles in the organization filled with capable, internal talent. If that doesn't sound like it's worth the cost, we don't know what is!
Are you worried you might be replacement hiring rather than succession planning? Take a look at this Succession Planning vs. Replacement Hiring Checklist to make sure you're on track.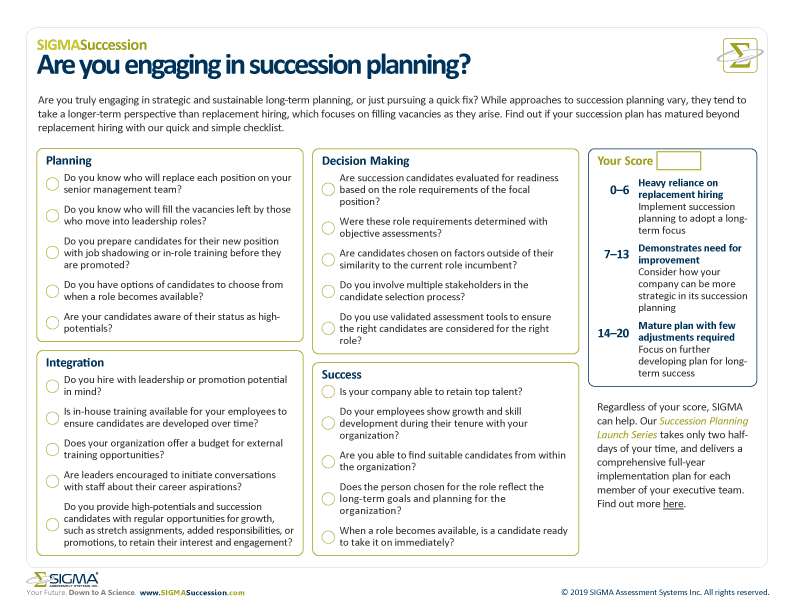 5. They don't know where to start
Before assuming the worst, consider that you might also have a CEO who understands the value of succession planning, but just doesn't know where to start. It's natural to focus our attention on urgent tasks with immediate risk and reward, but this can lead us to neglect important duties, such as planning for the long-term stability of the company. If this is the case for your CEO, present them with a simple process, such as SIGMA's Succession Planning Process. Finally, consider using an experienced succession consultant, who can offer succession workshops, templates, and resources to guide your process.

Is Your CEO Getting in the Way of Succession?
If you think there's a need for succession planning in your organization, you're probably right. Use this checklist to see whether your CEO is standing in the way of succession and take a look at our tips for how you can get your CEO on board.
The Cost of Not Having a Plan
Not sure if succession planning is worth the cost? Take a look at the summary below to see what the cost of unplanned succession may be. Download the infographic and use this data to get your CEO and other senior leaders on board to invest in the succession planning process.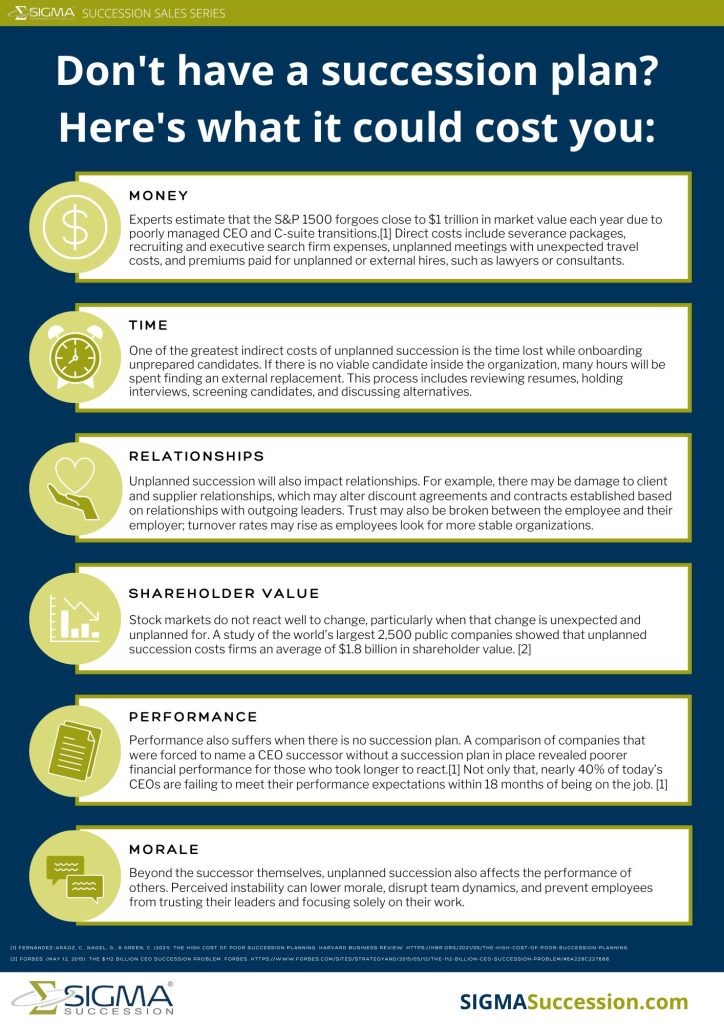 Download Infographic: The Cost of Not Having a Succession Plan
Ready to Get Started?
Are you ready to start building your succession planning process? Take a look at how you can sell succession to your CEO, or contact us below for more information on how we can help your leaders prepare for tomorrow.
[1] Challenger, Gray & Christmas, Inc. (2019). 2019 Year-End CEO Report: 160 CEOs Out in December, Highest Annual, Quarterly Totals On Record. Challenger, Gray & Christmas, Inc. http://www.challengergray.com/press/press-releases/2019-year-end-ceo-report-160-ceos-out-december-highest-annual-quarterly-totals.