The Multidimensional Emotional Intelligence Assessment-Revised is now available!
SIGMA is excited to announce the release of the Multidimensional Emotional Intelligence Assessment-Revised (MEIA-R). The MEIA-R is a unique, trait-based measure of emotional intelligence (EI). Emotional intelligence is what allows individuals to perceive, understand, regulate, and express their emotions. It has important implications for how we interact with others and has been linked to greater well-being.
What is the MEIA-R?
The MEIA-R is a self-report assessment that can be used to gain a greater understanding and awareness of one's emotions and their impact on others. This makes the MEIA-R a useful tool for counselors or other qualified professionals looking to assist clients in understanding their trait EI.
What is the MEIA-W-R?
SIGMA also offers a workplace version of the MEIA-R – the MEIA-W-R .  This leadership assessment measures EI in the context of one's work environment. Research has shown that using work-specific items improves the validity of personality tests over more generic versions when administered in work settings, making the MEIA-W-R a great option for those looking to develop their employees' critical people skills.
Below we discuss different uses for the MEIA-R and the MEIA-W-R to help you decide which version best suits your testing needs.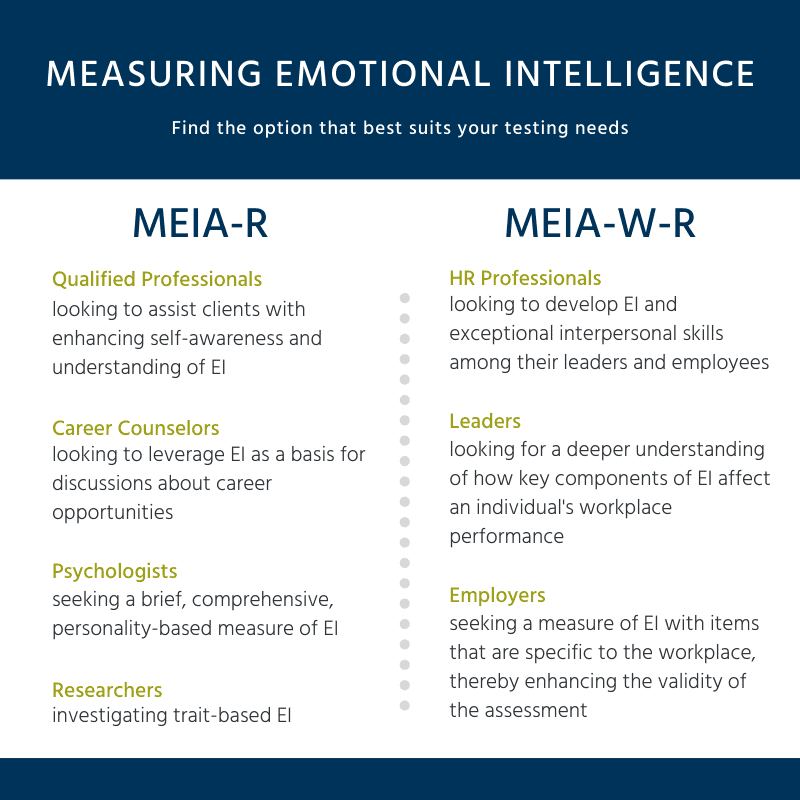 Highlights of the MEIA-R and MEIA-W-R
Broader Coverage. The MEIA-R and MEIA-W-R both assess 11 dimensions – 6 core building blocks of EI and 5 proximal outcomes that influence behavior.
Updated Content. Item content has been updated to more accurately reflect the experiences of individuals today, both within and outside the context of work. Some dimension labels and definitions have also been updated to more closely reflect their impact on behavior.
Shorter Administration. The MEIA-R and MEIA-W-R can each be completed in just 15 minutes, shortening the administration time from the original versions by 40%.
Construct Validation. The MEIA-W-R has been found to predict important attitudes and behaviors, including well-being, organizational citizenship, and counterproductive workplace behaviors.
About SIGMA
For over 50 years, SIGMA has been a leader in assessment and leadership development. We help maximize your talent with a measurement-driven approach designed to quantify and develop people potential and increase organizational effectiveness. To learn more about the MEIA-R and how our solutions can help strengthen your team, contact us today.