LSP-R Focus Activity 2
"People who can focus, get things done. People who can prioritize, get the right things done"

– John Maeda
The second activity in the LSP-R Focus Report is on page 6. This activity is intended to help you set development goals and narrow your my3 competencies down to a single myFOCUS competency. This will be the first competency for which you create a leadership development plan.
Download the complete Step-by-Step Guide to the LSP-R Focus Report below.
Why Priorities Matter
Narrowing your my3 competencies to a single myFOCUS competency is important. Don't skip this step! You might be tempted to pick a competency and start drafting your action plan, but it is important to take a measured approach to prioritization.
As we learned in our first LSP-R Focus Activity, narrowing your objectives can boost motivation and increase the likelihood that you will accomplish your goals. Taking the time to set priorities with input from multiple sources is also important. This will make sure that you are working smart, rather than just working hard.
How to Set Development Goals with the LSP-R Focus Report
The second LSP-R Focus Activity will help you evaluate your my3 competencies against a set of organizational and job criteria. This will show you which competencies you have the resources to develop and leverage in your work.
To complete this activity, turn to page 6 of your LSP-R Focus Report.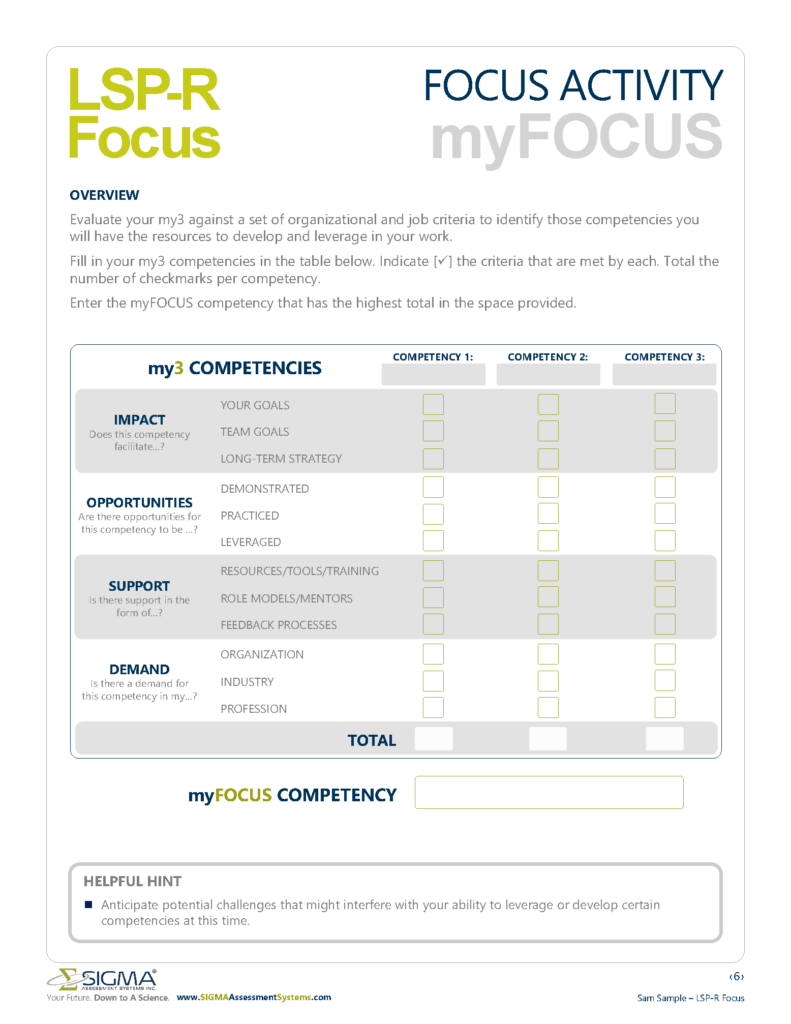 Step 1: Indicate the Criteria That Are Met by Each Competency
Start by filling in your my3 competencies in the first row of the table (labeled my3 COMPETENCIES). Next, indicate the criteria that are met by each competency. Here's a quick breakdown of what each criterion means:
Impact – Impact refers to how relevant a competency is to the strategy and operations of your team. Does the competency help you achieve your goals? Your team's goals? The organization's long-term strategy? If it does, then it is an impactful competency.

Opportunities – Opportunities refers to the chances you will have to develop and use this competency. Are there places where you can demonstrate, practice, or use this new skill? If so, then it is a high-opportunity competency.

Support – Support refers to the buy-in you have from colleagues and supervisors for developing this competency. Support may come in the form of resources and tools, coaching/mentoring, and feedback processes. If you have all these available to you the competency is well supported.

Demand – Demand refers to whether there is a need for this competency to be developed. Will it benefit you in your organization? Industry? Profession? If so, then there is demand for that competency.
Step 2: Consider Using 360 Degree Feedback
As you are scoring each competency, consider using a 360 degree approach as we did for Focus Activity 1. You can consult the same people or resources in order to make sure you get a holistic, balanced perspective of which competency meets these criteria best.
Step 3: Add Up the Scores
Once you are finished, add up the scores for each competency and write the total in the boxes at the bottom of each column. Find the competency that scored highest, and write this in the space below, labelled myFOCUS competency. This will be the first competency for which you create a development plan (myPLAN).
Looking for More?
If you would like help with your leadership development plan, SIGMA is here for you! Contact us if you need help interpreting your LSP-R results or creating your development plan. We are always happy to chat! We are also available as coaches if you do not have internal resources. Check out SIGMA's group and individual coaching, and our Lunch and Learn series.