Succession Planning for the CHL
The following is an excerpt from an interview of Canadian Hockey League (CHL) President David Branch by Sportsnet.ca and relates to the search for his replacement as President:
Sportsnet.ca: What does an ideal candidate look like from your perspective?
David Branch: It probably looks like Dave Branch. (laughs)
Sportsnet.ca: Are you going to clone yourself?
David Branch: I think they would make sure that couldn't happen (laughs). The key at our level, we believe, is that you understand how to blend the game, the player, and the necessary aspects that we need in place through marketing and sponsorship and broadcast. So, we need the perfect candidate who will understand all those areas and bring new and fresh ideas because we all know we're in a changing world, so that's the ideal candidate. We're wide open in our thoughts and minds. It's an exciting period.
My experience helping organizations tackle the challenges of succession planning made a few things about David Branch's comments stand out.
Replacement vs. Successor
The story refers to a search for a replacement as opposed to announcing a successor. One of the most critical responsibilities of a leader is to ensure there is someone there to take over and ensure the sustainability of the organization should they leave. If the CHL had a mature Succession Plan in place, the announcement would be introducing the successor and would send a message of stability. Instead, Branch refers to the search as an exciting period, but more accurately, it is a period of great uncertainty for all CHL stakeholders.
All critical roles should have a documented Succession Bench identifying internal successors and their readiness for the role. This allows organizations to identify areas of risk and have an intentional plan to ensure there are multiple internal candidates to consider when the time comes to appoint a successor.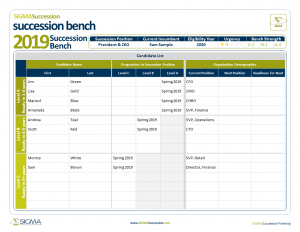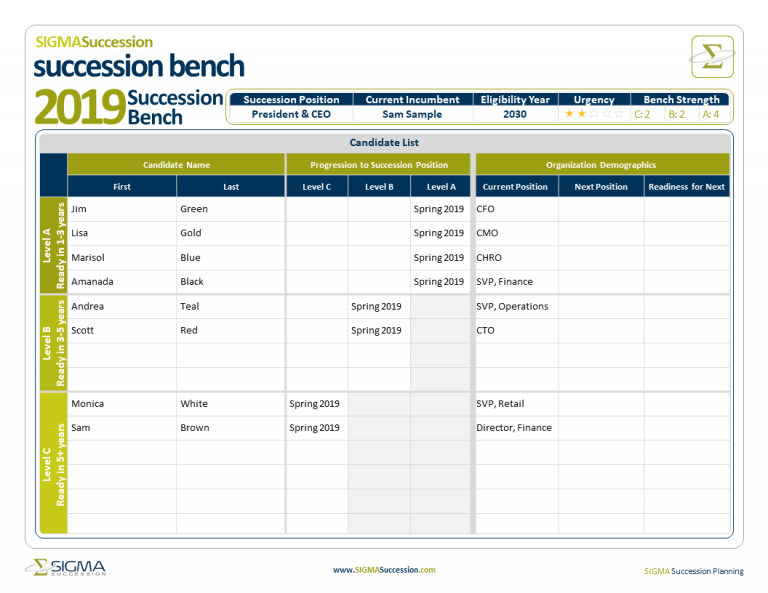 External Candidate Search
While I am, admittedly, making an assumption that a search means the CHL is looking for an external candidate, this is often the case when a search is announced. As the CHL consists of four interconnected organizations (OHL, WHL, QMJHL, and CHL) and 60 teams, it'd be reasonable to assume they'd have an extensive internal talent pool to select from. In light of this, what message does it send to top talent within those organizations if it appears that the CHL thinks an outsider is better positioned to lead? And, what does it say about Branch's leadership – and his ability to develop talent – that no one within the organization is ready to assume his role?
Building on the Succession Bench above, having a clear understanding of where your talent pool stands helps to inform development plans that provide opportunity and growth for your top talent. While it is not always possible to promote from within, more often than not it is simply due to lack of a structured approach towards development that organizations must turn to external recruits for crucial leadership roles. Regardless of whether top talent is ready now, if there is not a structured plan to get them ready, you will lose them to someone else.
The Clone
Clearly, Branch was kidding when saying the ideal candidate 'probably looks like Dave Branch'. However, there was a kernel of truth in his joke. Many organizations make the mistake of replacing the person rather than the role. Hiring a clone of the incumbent fails to recognize the "changing world" that Branch refers to and is a major concern of any organization looking to have a competitive edge in the future
At SIGMA, one of the first things we do with our clients in the Succession Planning Launch Series is draft detailed Success Profiles for each leader. We use several sources to inform profiles that will help ensure that the successor will be aligned with the organization's strategy and future needs. Having an a well-developed objective benchmark for defining what the ideal candidate looks like will strengthen your process and ensure unbiased decisions that are in the best interest of the organization.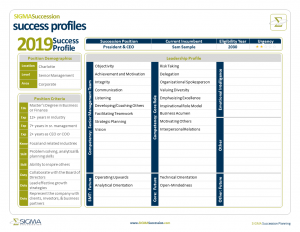 I obviously have no inside knowledge of what has happened or will happen in the search for Branch's replacement. The CHL may have a rigorous process in place to search for top candidates. However, anytime a leadership change is announced without a corresponding announcement for a successor, that's often strong evidence of an immature or (more likely) non-existent Succession Plan. The uncertainty that follows does not serve the organization or its stakeholders.
How SIGMA Can Help
If you're concerned about the maturity of your company's succession plan, SIGMA can help. Our Succession Planning Launch Series delivers a custom succession plan to your leadership team in just 30 days. Contact us to learn more about how our simple succession planning process can help you improve your succession planning today.