Building success profiles to understand your organization's needs
This article is part of our series on SIGMA's six-step succession planning process.
If you ask a dozen people what the key for success in a leadership role is, you'll receive a dozen different answers. Every leader has their own style, and every role comes with its own set of requirements. The unexpected loss of a leader, due to personnel changes or retirement, can create a gap that is hard to fill, even if a company believes they are well prepared. This difficulty grows exponentially if a company is unclear on the characteristics that made that leader so successful in the first place.
The Importance of Building Success Profiles for Succession Planning 
A good succession plan always begins by identifying the most critical roles in your organization, which create a starting-point for your process. Once you are clear on who would have the most impact on your organization if they left tomorrow, you can begin to understand what that role truly entails, and what a successor would need in order to flourish. Understanding the leadership success profile will allow you to begin nominating succession candidates and preparing for their growth and development.
How Are Success Profiles Used in An Organization?
The purpose of success profiles can extend beyond succession planning and can benefit many aspects of your organization. By developing success profiles for key positions in your company you will improve HR, talent management and business development ventures within your business. Practices that can benefit from comprehensive success profiling are:
Hiring and Recruitment
Talent Development and Onboarding
Leadership Development
Video Transcription
Now that we've really narrowed down our needs into one specific role, the most important or the most critical role at this point, the one that makes most sense to succession plan for, now we can really drill down and understand what's important for that specific role, and what we call that is our succession…or our success profile. And in building that success profile, it should capture requirements of the position both today and more importantly, the future. The critical pieces here are, imagine the individual in this role is probably been there 15, 20, 25 years. It's very difficult to separate Joe Smith from CFO. But it's really important when we're building the success profile to think of the role, the position all by itself separate from Joe. And as you can imagine, if you think of an individual like this at your organization, when individuals have been in a role for a long time, a lot of times their role will bleed into other areas of the organization. That's not necessarily a bad thing, but when we're building requirements for the role, think of the role by itself. In generating this information, we need to gather input from a variety of sources. Certainly, the current incumbent is a really great resource. They've been doing the role for a significant length of time. That can both be a positive and a negative. The positive part is obviously they know the role of the role better than anyone else. The negative is they base their knowledge of the role on what they've been doing for the last 20 to 25 years. What we want to do is we want to build the success profile for what's needed in the future so you can see that the incumbent's perspective can only be one perspective in this process. A really great resource that's sometimes not used are that individual's direct reports. A lot of times they certainly have a great perspective and knowledge about what that role does because they've been working for that individual for several years and they also have a little bit different perspective and an eye towards the future. So, I think collectively if we gather the information from our incumbent, their direct reports and essentially the executive management team would consolidate that data together and come up with really the best fit for what that success profile looks like. And finally, the one really critical piece that weaves through this success profile is your organization strategy. If we're building a success profile for the future, we need to know where the organization is going to go in the future. So for example, if your organization is planning for really aggressive growth over the next 3 to 5 years, you can imagine that what a chief marketing officer does today for a company of 50 employees is going to be very, very different if our company is going to be 500 employees 5 years from now. So, that strategy piece is a really critical piece as we're building the success profile. Building the success profile itself, in terms of the steps, it's a relatively simple process. What we want to do from a pure logistics standpoint is for each success profile we'd want the position, the individual in the position, their planned exit year if we know, and it's actually a great excuse to have the conversation with the incumbent if you haven't already, and the urgency of which is obviously closely…really closely related to that exit date. We want to list the position requirements, and from a position criteria standpoint, it's best if we have a job description that we can at least use as a baseline. And, you know, certainly, that may or may not be outdated. It will act as a baseline. And then we would gather input on from both the incumbent and their direct reports in terms of what would be needed for the future. And finally, again, just as a reminder, and I probably sound like a little bit of a broken record, but it's really critical to always remind yourself, are we thinking of the person? Are we thinking of the role? For example, your CFO obviously needs an accounting designation, maybe 15 plus years in finance, etc., that's the relatively easy part. But we all know that leadership is clearly determined by a variety of factors, including things like competency, character and emotional intelligence that you've probably heard a lot more of within the last few years. Scientifically validated assessments, which is a core part of our business at Sigma are an excellent way to measure current talent and actually inform discussions about what's important for the future. We've talked about gathering information from the incumbent, from their direct reports, certainly from the senior management team, but assessments can really close that loop and really add a lot of objective data to the process. And finally, the key piece here is we've developed our success profile. We have a lot of really great information and essentially this is the target. This is what we're shooting for as we develop successors into this role. But remember, this is not a static document. This is going to change maybe even on a year to year basis. We recommend, once you develop the document, actually put in your calendar at least on an annual basis to review and challenge the assumptions in that document.
How to build a Success Profile
SIGMA has created a Success Profile worksheet that allows you to fully explore the knowledge, skills, experiences, and characteristics that are required of any given role. This comprehensive look allows you to gather all the information about a single role in one place to begin to evaluate who might make good succession candidates for a given position. It also sets the standard for training and development for these candidates.
When filling out the Success Profile worksheet, keep these important considerations in mind:
1. Success Profiles should be based on the role you anticipate having to fill.
It can be easy to confound the role with the person currently occupying it, but this is a chance for a fresh look at the position. Consider the job requirements, tasks, and expectations for this role. What skills or experiences are needed in order to satisfy these requirements? What traits or characteristics would help a person excel at these tasks? Some of these will overlap with the characteristics of the current incumbent in the role, but there may be some new ideas to come out of this process.
2. Planning for the future begins with creating accurate Success Profiles today.
The best place to start with creating a Success Profile is to consider: if I had to select someone for this position today, what requirements would I want my new hire to fulfil? Think beyond their general skills or qualifications to their personality and other characteristics. After listing the current requirements, begin to think long-term. Consider how your organization may change over the next five to ten years. How will these changes impact this particular role? How can you best prepare succession candidates to succeed in a changing environment? Use this as an opportunity to build your organization's strategic leadership development plan into your succession planning process.
3. Gathering more information will improve your Success Profiles.
A Success Profile begins with the incumbent, and should look to the things a current employee does well for examples of characteristics to include in the Profile. Your Succession Advisory Team should also be involved in listing the competencies for the current and future requirements of the given role. However, consider looking beyond your senior management team and the current incumbent as sources of information about a role. Ask leaders, colleagues, and direct reports for their input. Consider other positions or departments that have frequent interactions with the person in this role and ask for their feedback as well. Gathering information from a variety of sources will ensure you create a well-rounded and informed Success Profile.
What Information Should You Consider When Building a Success Profiles?
Technical and professional knowledge required to be successful in the role
Critical work and educational experience
Behavioural traits that will lead to successful performance
Talents, aptitudes and intellectual capacity needed
Personality and leadership skills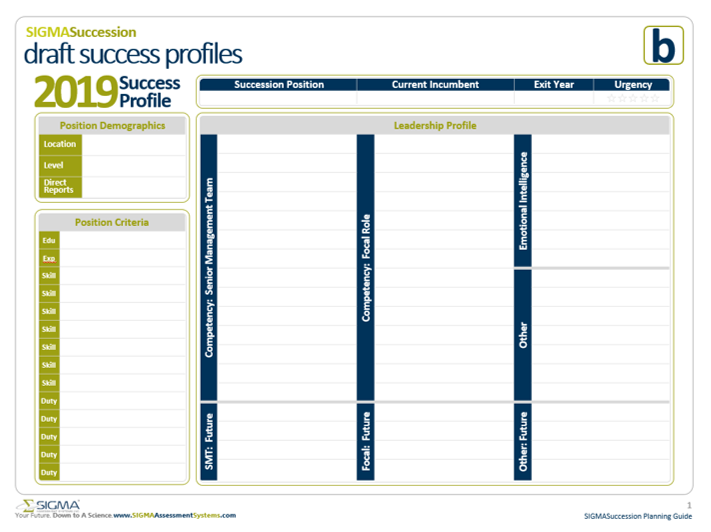 Using the Success Profile Worksheet for Success Profile Management
Managing your success profiles for succession planning is a continuous process that involves following imperatives:
Understanding the need for succession planning in your organization
Identifying the knowledge, talent and skill set of the potential succession candidates
Implementing the success profiles consistantly throughout succession planning
Updating success profiles as roles within your organization shift
The Success Profile Worksheet is a simple but powerful tool to help you define and understand the critical roles in your organization.
First, clarify the need. Across the top of the worksheet, fill in the title of the position and name of the current incumbent in the role. Based on your conversations with this person and their retirement eligibility, indicate their likely exit year. Use this timeline to indicate how urgently you need to prepare a successor for the role. If your incumbent plans on staying for at least five years, you can indicate a low urgency; if they are leaving in three to five years, this would be considered medium priority; and if the incumbent intends to leave in the next three years, you need to urgently and immediately plan for their succession. When in doubt about exit plans, it is safest to plan for the worst and assume a role is in urgent need of attention.
Along the left side of the worksheet, fill out the demographics and criteria of the role. This basic information should be based on the job description for the role. Include information like the education and experience needed to be considered for the role, the skills a succession candidate should have demonstrated in the past, and the duties they might be expected to fill.
Finally, you can develop the target leadership profile. Use this space to list all the personal requirements, qualifications, and characteristics a person should have in order to be successful in this role. Use both the information you gathered from the incumbent and other sources, as well as scientifically-validated measures to add objectivity to this process. This will provide your organization with a benchmark on which to evaluate, develop, and monitor the progress of your successors. SIGMA has a range of assessments available to help you create a Success Profile that is effective, evidence-based, and tailored to your needs.
Remember, the Success Profile is a live document that can and should be updated regularly. This document is your tool for understanding your critically important roles, and builds a foundation for your Succession Plan.
Next Step: Nominate Successors (1/2)
If you've finished creating success profiles for each of the critical roles in your organization, you're ready to nominate successors. Check out Step 3 of SIGMA's six-step succession planning process below.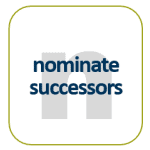 Need Help Getting Started?
SIGMA's Succession Planning Launch Series offers a simple and cost-effective way to build a robust Succession Planning process and ensure your organization's leadership is positioned for success and prepared for the unknown.
Contact us to learn how we deliver a full year Succession Implementation Plan for each member of your leadership team in just two half-day workshops.
Related Posts
Request More Information