Measuring Succession Planning Progress
An important but often overlooked step of Succession Planning is to measure the success of your succession plan. The Talent Progress Scorecard Template allows you to review the outcomes of your succession plan across several important indicators. The scorecard will help you to demonstrate the value of your succession plan on an ongoing basis. It will make it easier to justify your budget, ask for budget increases, or get buy-in from executives in other areas. To make the most of the Talent Progress Scorecard it is important to consider both what to measure and when.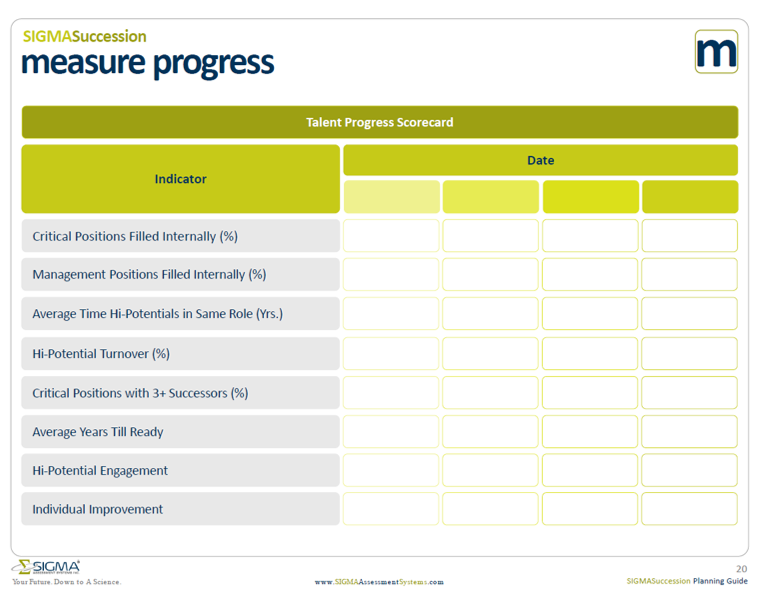 Benefits of a Talent Progress Scorecard
Why use this template? Talent progress scorecards are practical tools you can use to make sure your succession plan is on track. Benefits of using the talent progress scorecard include:
Agreeing on key metrics your company uses to measure success
Documenting key metrics for success
Facilitating regular measurement and recording of success metrics
Ability to identify trends over time
Ability to measure return on investment (ROI)
Data that can be used to communicate success
Objective indicators of progress (very motivating for employees)
Early indicators when development is not effective (i.e., if no progress is seen)
Make the Most of Your Scorecard
To make the most of the Talent Progress Scorecard it is important to consider both what to measure and when.
1. Identify Relevant Indicators of Success
Measuring indicators of success that are specific to your organization will help to make the Talent Progress Scorecard as relevant as possible. Look for ways to add objective, impressive numbers, such as money saved or time delays prevented. In the Talent Progress Scorecard template, you will see some basic indicators that we recommend such as:
Percentage of critical positions filled internally
Average time high potentials spend in the same role
Average years until succession candidate is ready to move into the new position.
These can be a great starting place, but don't feel constrained by our recommendations. Customize the Talent Progress Scorecard to measure what is most important to your organization.
2. Review Indicators of Success Regularly
At a minimum, your Talent Progress Scorecard should be updated every 6 months. Tracking progress and regularly sharing the results with key stakeholders demonstrates the value of your succession plan and keeps its importance top of mind. Measuring and communicating the progress of your succession plan early and often will ensure you get the resources and executive commitment you need for a successful planning initiative. Even if you only track one metric, get in the habit of recording it and attaching a dollar value if possible. Create your Talent Progress Scorecard early, and in time you will be able to show year-over-year progress.
Need Help Getting Started?
SIGMA's Succession Planning Launch offers a simple and cost-effective way to build a robust Succession Planning process and ensure your organization's leadership is positioned for success and prepared for the unknown.
Contact us to learn how we deliver a detailed 12-month succession plan for each member of your leadership team in just two half-day workshops.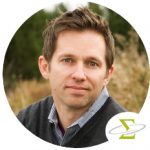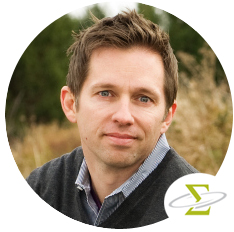 If you're interested in learning more about SIGMA's succession planning services, Glen is the guy for you. He knows our material inside and out, and can tell you first-hand stories of the work we've done with our clients. And just so you know, Glen doesn't do sales – he does solutions. That might mean answering your questions, giving you our best tips and tricks, or pointing you to our FREE resources. Send him an email or give him a call! He'd love to chat with you.