How to Nominate Succession Candidates
Succession Planning Step 3: Nominating Leaders for Future Roles
Succession planning is an important initiative for any company to complete in order to plan for future personnel changes and minimize their impact on business operations. There's no doubt that employees in critical roles will change over time—whether due to retirement, promotion, departure to another company or many other reasons. What's important for every organization is to ensure that personnel changes don't leave gaps in knowledge or experience that could affect operations and jeopardize the business. To do this, you will need a robust succession plan that begins with identifying and potential leaders and nominating succession candidates.
So now that we have our success profile, as I said, this is essentially the target, where we want our successors to get to, the target that we're trying to hit. And now that we have this, it helps us understand the talent we need. So that target is the talent we need.
Next, we need to understand what we have in place today. What does our internal candidate pool look like? A great first step in this stage is actually nominating successors and it's actually, we think it's important to have a relatively simple process because what we're trying to do is essentially develop, at risk of sounding a little bit institutional, a bit of an inventory of our talent and where everybody is in terms of their readiness and our confidence. And the nomination questionnaire that we use is simply two simple questions. How ready is the individual? And, how much confidence do we have in their ability to perform in this role that they would move into?
Identifying Potential Leaders for Succession
The first step in the succession planning process is to identify critical roles. Once these have been identified, and you've built a success profile for each role, your management team can turn its attention to nominating succession candidates who could potentially fill each position.
The purpose of this succession candidate nomination process is to develop an inventory of the high-potential talent available to move into a critical role at some point in the future. To identify the succession candidates who could do so, your succession planning team will turn to the managers in the functional area the key role falls under (for example, finance or marketing).
A succession candidate will most likely be discovered within this functional area and team—perhaps someone with a similar background or experience to the current employee in this position, or with exposure to the day-to-day responsibilities of the key position. However, the succession planning team should also consider looking across functions, departments, and teams to see if employees in different areas might also be good potential successors.
Factors to Consider When Selecting Potential Succession Candidates:
Determine measurable criteria. To effectively evaluate each candidate's potential, it is crucial to establish consistent and quantifiable criteria for evaluating their suitability for future roles within the organization.
Identify potential successors. Once the criteria have been established they can be used to identify viable succession candidates. To reduce the impact of personal bias, make sure that more than one person is involved in this process.
Confirm candidate interest. Establish if the candidate is interested in the future role for which they have been nominated as a succession candidate. It is essential to align candidates' career aspirations with organizational needs and objectives.
Develop a talent development plan. To nurture potential successors, it is imperative to create a personalized development plan that addresses their specific strengths, weaknesses, and areas for growth.
Follow the candidates progress. Use regular feedback and performance assessments to monitor candidates' progress. This will provide you with an up-to-date status on each individuals' readiness for future leadership roles.
To facilitate the succession candidate identification process, SIGMA has developed a Nomination Survey that helps succession planning teams evaluate an individual's potential to fill a particular role.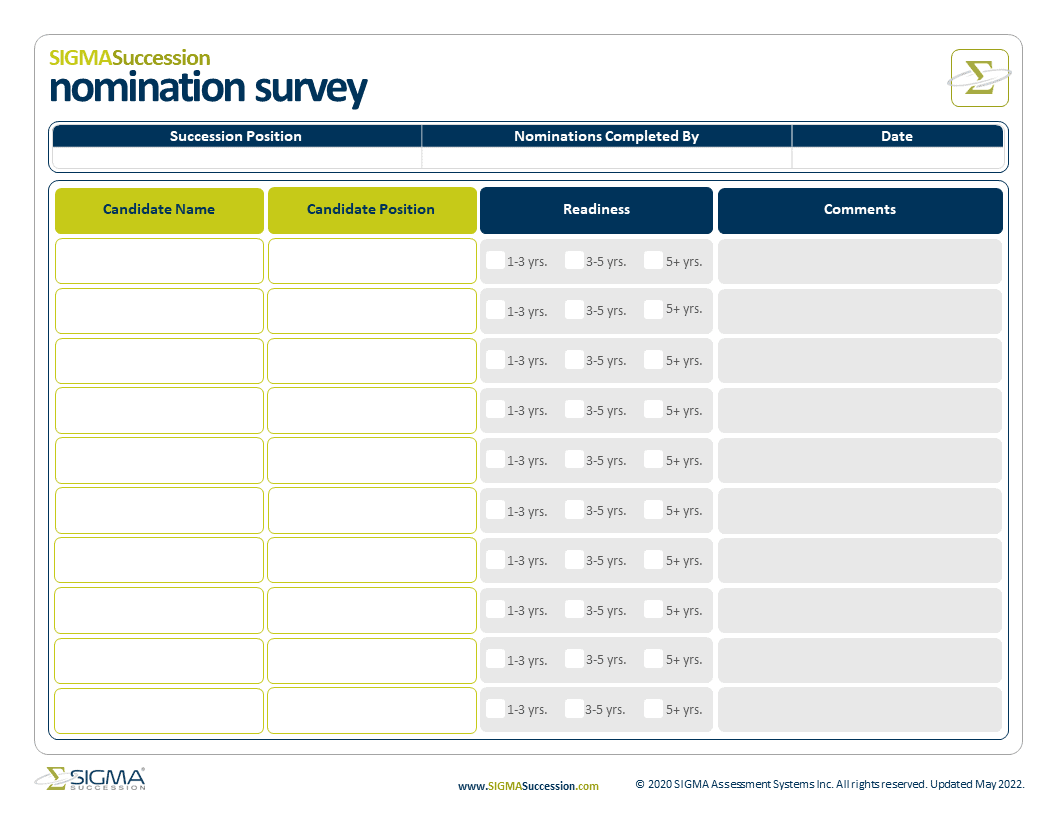 Using SIGMA's Nomination Survey Template to Identify High-Potential Successors
The nomination survey helps keep the talent identification process fairly simple. It asks respondents to rate how confident they are that the potential successor can perform the role, and how soon the succession candidate will be ready to move into the role. It also leaves room for respondents to add any thoughts or comments that might assist with the evaluation of successors.
The successor nomination survey can be completed by:
a succession candidate's supervisor, who is often the incumbent currently in the role
several senior managers who have the necessary perspective to provide meaningful ratings
leaders, peers, and direct reports who can round out a 360-degree rating
How Many Succession Candidates Should be Evaluated?
While it is tempting to complete the Nomination Survey for only the top performing candidates, we recommend evaluating all staff relevant to the role you are planning for. The insights of the team members closest to the candidates may reveal someone that the succession team would not otherwise have uncovered.
Assessing Talent with the Succession Candidate Nomination Survey
Once your succession planning team has received all the Nomination Surveys for all potential successors for a particular role, you can compile the results to get a picture of the individuals who could be named in your succession plan to eventually move into that role. Your succession team should then discuss and validate the results, and make the final decision about how prepared the succession candidate is for the role, as well as the team's confidence in their potential.
The final results of the leadership identification process will help the succession team develop your Succession Bench—list of successors and their relative readiness to take on a role. We'll take a look at how to build and maintain your succession bench in our next succession planning article.
Next Step: Assess Development Needs Nominate Successors
If you've nominated all of your succession candidates, you are now ready to assess leadership development needs. Check out the next step in SIGMA's six-step succession planning process below.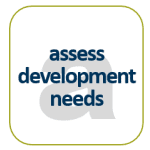 LOOKING FOR MORE?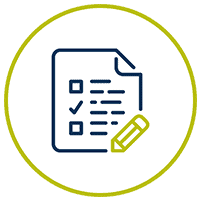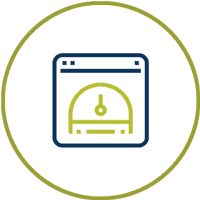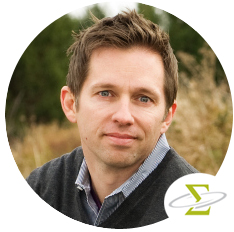 Talk to Glen.
If you're interested in learning more about SIGMA's succession planning services, Glen is the guy for you. He knows our material inside and out, and can tell you first-hand stories of the work we've done with our clients. And just so you know, Glen doesn't do sales – he does solutions. That might mean answering your questions, giving you our best tips and tricks, or pointing you to our FREE resources. Send him an email or give him a call! He'd love to chat with you.