Create Your Succession Bench with the Succession Bench Template
Part of the Nominating Succession Candidates Stage is to create your Succession Bench. This worksheet is used to evaluate the overall readiness of your succession candidates for a critical role. Further, it can be updated and used to track internal candidate preparedness over time. A strong bench is essential for your succession plan to be effective and valuable, and this worksheet can bring awareness to your organization on the current state of your bench and your succession candidate readiness.
How to Build Your Succession Bench
Begin by creating Succession Benches for those roles you have identified as critical using our Critical Roles Identification Questionnaire. Indicate important role information across the top of the worksheet, such as position, current incumbent, and urgency to replace role. Then, populate the Succession Bench template with those candidates you identified in the Succession Nomination Survey.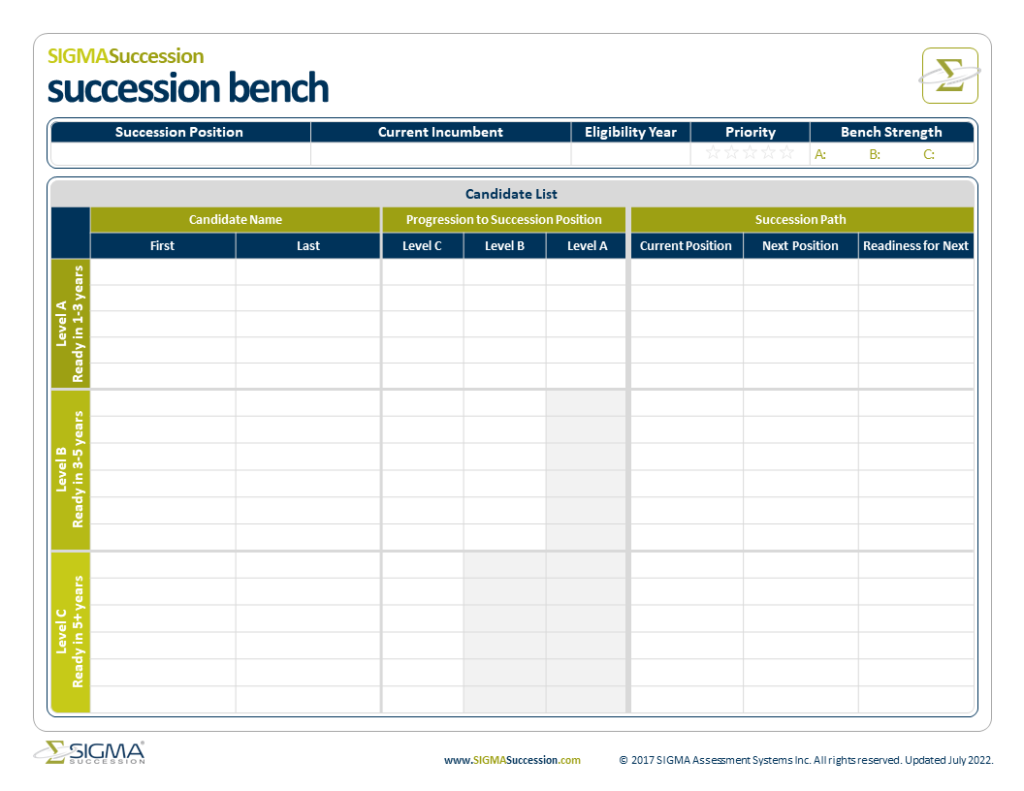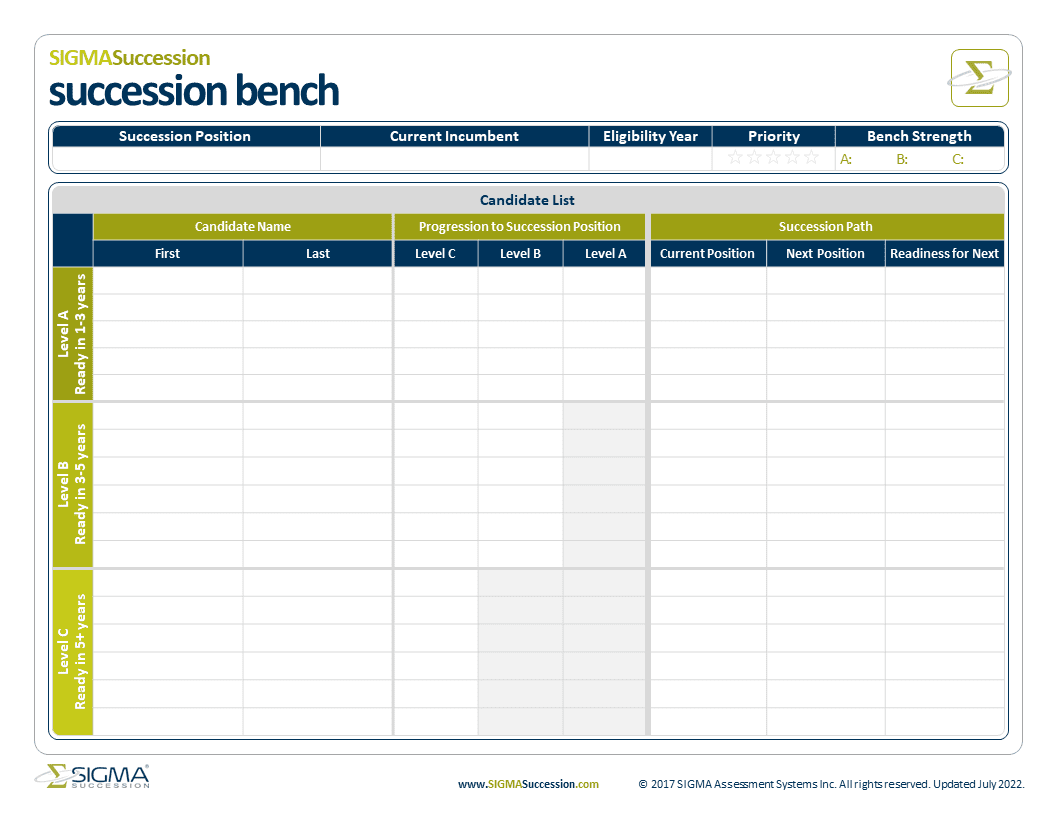 Benefits of a Succession Bench
Why Use This Template?
SIGMA's succession bench template is one of the most useful tools for facilitating a robust succession planning process. The benefits of using this template include:
A summary of all potential candidates for a succession position
A snapshot of where each candidate is in their development towards the position
At-a-glance tool for determining how strong the succession plan is for a particular role
A record of candidate progression towards the succession position
Easy organization of candidates by readiness for position
1. Rate Succession Candidate Readiness
In this leadership transition plan template, sort candidates based on their readiness to take on the focal position. Use the three levels indicated along the left-hand side:
* Level A: succession candidates ready for key role in less than 3 years
* Level B: succession candidates ready for key positions in 3 to 5 years
* Level C: potential leaders ready for a critical role in more than 5 years
2. Record Succession Candidate Progress
Use the Progress to Succession Position columns to track progress over time. Indicate the dates at which an internal candidate enters each level, tracking when they move from Level C to B, and from Level B to A. This can give you a sense of an individual's progression timeline, as well as the speed at which your organization typically trains and develops employees. This information can be useful for populating your Talent Progress Scorecard.
3. Track Intermediate Growth
Although an individual may be a good future candidate for a critical role, they may require experience in other positions first. This is especially true of Level C candidates. For example, a department manager may show potential as a future C-suite executive, but may need to spend some time as a vice president or associate director first. Use this space in the leadership transition plan template to indicate the current and the next position for a succession candidate, and their readiness for their next role in the ladder to progressing toward the focal role.
The Succession Bench should be seen as a living document, with succession candidates moving up or down levels as appropriate. To learn more about how to use the Succession Bench effectively, visit our succession bench page.  As you train your succession candidates using Individual Development Plans, be sure to revisit this succession bench template and update it as needed.
Once you have categorized your potential successors, consider creating a Candidate Succession Profile to better understand how you can help these future leaders progress across levels.
Download SIGMA's SUCCESSION TEMPLATE GUIDE for Succession Planning Templates for each stage of your Succession Planning Process
Need Help Getting Started?
SIGMA's Succession Planning Launch Series offers a simple and cost-effective way to build a robust Succession Planning process and ensure your organization's leadership is positioned for success and prepared for the unknown.
Contact us to learn how we deliver a full year Succession Implementation Plan for each member of your leadership team in just two half-day workshops.
FAQ
A Succession Bench is a detailed overview of every individual that could possibly be a successor to a critical role in your organization.  
SIGMA's Succession Bench template can help you and your organization:
Chart who your succession candidates are for each role.
Ensure you have enough individuals progressing toward being able to step into the role.
Track the successors' development over time.
SIGMA's Succession Bench worksheet will provide you with a quick understanding of the strength of your bench (i.e., potential successors), including your strongest and weakest areas for succession planning.