Create a Talent Development Plan to Assess Succession Candidate's Growth
See the updated 2020 Individual Talent Development Plan Template
An Individual Development Plan is a two-part worksheet that outlines a succession candidate's career goals, action plans, and milestones for their growth and talent development. The purpose of these succession planning worksheets is to clearly state talent developmental opportunities and track progress toward professional goal attainment over time. Although succession candidates should take responsibility for their own professional development, the Develop Talent Stage of your succession plan is best conducted with the help of a trusted leader or coach partner.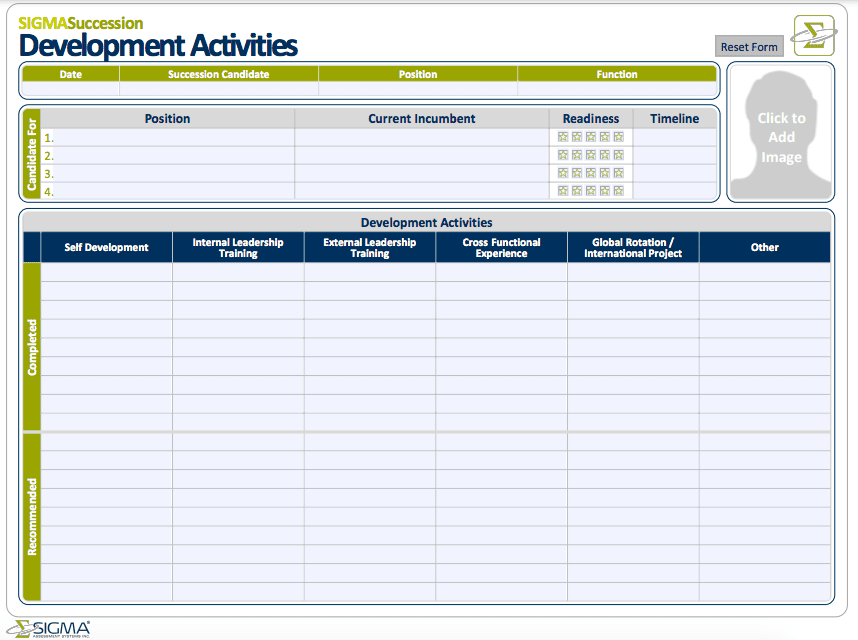 The most effective way to use the Individual Development Plan is after you have created Success Profiles for the role you are succession planning for, and after you have identified a candidate's current skill gaps with the Candidate Succession Profile.
How to Complete the Individual Talent Development Plan Template
Below are the actionable steps you can take to create an individual development plan for a succession candidate.

1. Gather Succession Candidate Information
For both sheets, begin by listing the succession candidate name and current role, as well as indicating all positions this candidate is being considered for. Rate their readiness and timeline to move into each potential future role.

2. Indicate Top Talent Development Opportunities
Indicate the top opportunities for professional development for this candidate. These should be informed by the gaps identified in the Candidate Succession Profile worksheet.

3. Create Your Talent Development Plan
Prioritize talent development opportunities based on need, urgency, and candidate interest. For each area of opportunity, the leader or coach and the succession candidate should mutually set a realistic goal for talent development. Specify the actions needed to reach this goal, and set realistic deadlines. Revisit these talent development goals on a regular basis, keeping track of any setbacks, successes, and lessons learned.

4. Plan Your Talent Development Activities