At-a-Glance Succession Bench
As a leader, you might have a general sense of the talents and development areas within your department. Your impressions of your team may also inform your ideas about who would replace you if you were to leave your role tomorrow. These potential candidates make up your succession bench, and are usually the first individuals you may turn to when you have training and development opportunities, or to delegate a new responsibility to.
However, without a formal succession plan and an objective assessment of your existing talent, it can be difficult to be sure of the strength of your succession bench. Use our At-A-Glance Succession Bench worksheet to gain a quick understanding of your bench, including areas of strength and of urgency for succession planning.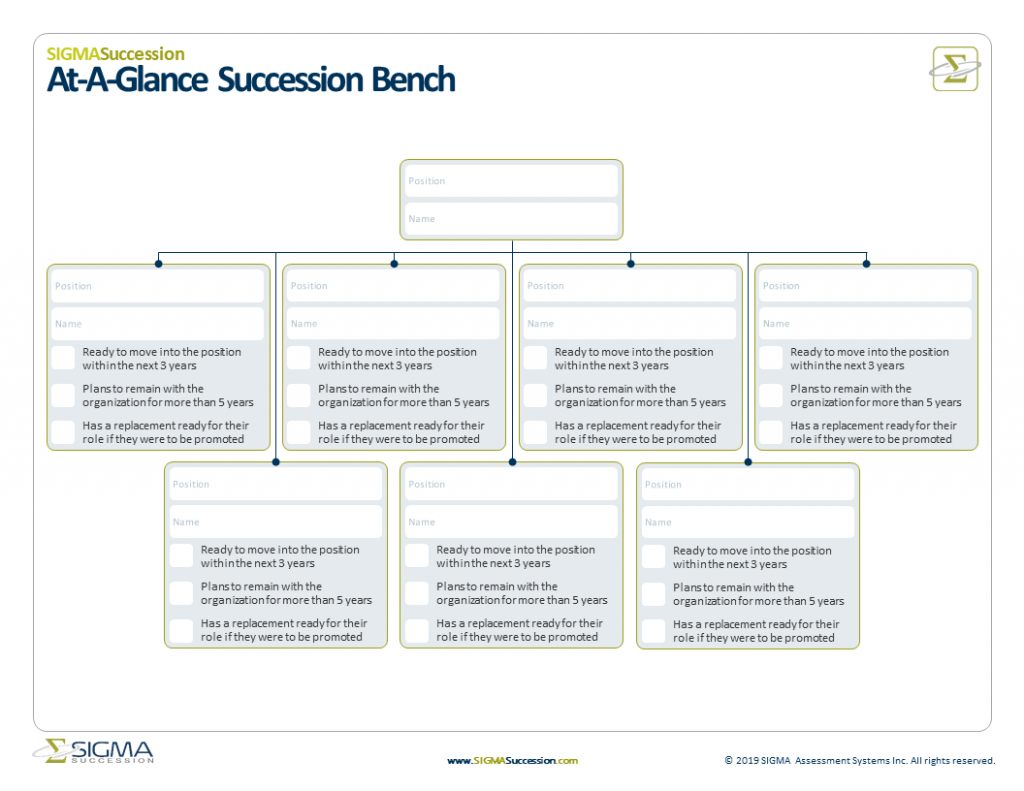 Download the At-a-Glance Succession Bench Template
How To Use This Activity
Choose a role you wish to focus on. Consider those critical roles in your company with unique knowledge, difficult to replace skills, or an anticipated exit from the organization. Place the position and incumbent name in the top box. Next, list their direct reports and put a check mark beside each box if the meet the following criteria:
They are ready to move into the focal role within the next 3 years
They plan to remain with the organization for the next 5 year or more
They have a replacement ready for their position, should they move into the focal role
How to Use Your Results
The results you gain from this activity can give you an indication of the strength of your bench. Pages with most boxes checked should be considered an indication of a mature succession bench, while pages with mostly blank boxes may indicate a need for succession planning. In general:
Individuals with all boxes checked are your strongest succession candidates
Those with two boxes checked can be strengthened by focusing on the one area of need
Individuals with only one box checked require greater focus and development efforts
Many individuals with one or no checked boxes indicates an urgent need for succession planning for this role
How SIGMA Can Help
At SIGMA, we have designed a process to help your company be more effective a proactive with succession planning. For more information on our Succession Process or Succession Planning solutions, contact us and learn more about how we can help your organization develop your next generation of talent. Check out our Launch Series for more information on how we can provide your company with a personalized Succession Plan in just 30 days.