360 Feedback Process Map
Having a structured process for your 360 degree feedback initiative can save you time, prevent missteps, and ensure that your process is a success.
Here is a high level 360 Feedback Process Map that outlines the major steps: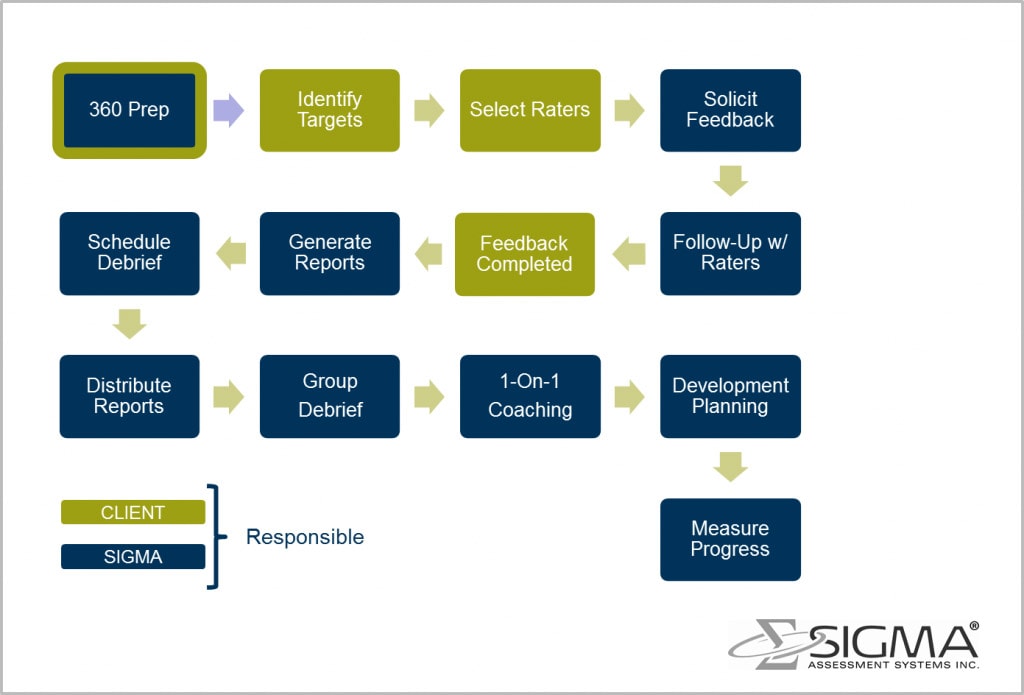 Step 1: Preparation for 360 Employee Feedback
This is the most important step. Some key, high level steps in this category are:
Define the purpose of your process and expected outcomes
Communication

Target and rater training
We will address this step again in a future post.
Step 2: Identify Targets
The purpose and expected outcomes defined in step 1 will drive this decision. Is it a company-wide initiative? Or being used for an isolated purpose (i.e., being used to support a leadership development program) for a select group or department?
Step 3: Select Raters
Determine who will choose the raters. Typically, this is done by:
The supervisor

A combination of both
For enhanced buy-in, the employee should have at least some input on who their raters are. Having only the supervisor selecting the raters is not recommended.
A common question asked is 'How many raters should be selected for each target?' The purpose of the 360 feedback is to provide a wide variety of perspectives while protecting the confidentiality of those providing their perspectives. To this end, we recommend between 3 to 6 raters for each category (Colleague, Direct/Indirect Report, Other) with the exception of Supervisor and Self.
Step 4: Solicit Feedback
Each rater is typically sent a link from our 360 feedback platform to provide feedback. This link should not come as a surprise to anyone. Make sure that raters know what to expect with regards to the purpose of the process, the confidentiality of their ratings, and the importance of their candid feedback.
Step 5: Follow-Up with Raters
Raters will need to be reminded — some more than others. As a result, the SigmaRadius platform allows us to configure automatic reminders. The benefit of this is two-fold. First, it gets done. Second, it preserves the perception of confidentiality as the reminders come from an independent third party.
Steps 6-7: Feedback Completed / Reports Generated
We typically recommend allowing 2-3 weeks for raters to complete ratings. This gives everyone enough time to give the survey proper attention without interfering with day-to-day responsibilities. If a single rater (usually a supervisor) is responsible for a large number of ratings, consider a phased approach to spread things out for the supervisor.
Once the feedback is completed, reports can be generated and distributed immediately. Who actually gets to see those reports should have been decided – and communicated – at the start of the process. If the supervisor and HR will have access to the report, be transparent about this from the beginning.
Steps 8-10: Debrief Scheduled / Reports Distributed / Debrief Completed
Completing a 360 feedback initiative without any follow-up is a complete waste of time. Whether that follow-up is a meeting with the employee's supervisor or participating in our popular Group Debrief, it is important to have a formal process for guiding employees through their results and helping them leverage the report to create a development plan.
With this in mind, we recommend distributing the report after a meeting is scheduled and ideally only 4-5 days before that meeting. This ensures that the employee does not have time to 'stew' over their results before some guidance is given.
Steps 11-12: 1-On-1 Coaching / Development Planning
This should really be viewed as a continuation of the debrief and can be managed by the employee's supervisor or an executive coach. The purpose of this phase is to enhance the employee's self-awareness and understanding of what they need to do differently to be more effective and balanced. In addition, it will equip them with the tools to leverage their strengths in achieving their leadership goals.
For more information on coaching, download Everything You Need to Know About Executive Coaching.
Next steps: Measure Progress
At its' core, 360 feedback is a measurement tool. To measure the success of our initiative is not measuring the 360 tool, but measuring the progress employees make against their development goals. Using the same 360 instrument (or a subset) each year will give you an effective gauge of how employees are developing.
Remember: the success of your 360 project depends on what happens after employees receive their report.
Looking for more help with your 360 feedback project? Check out some more of our 360 Degree Feedback resources below:
---