Critical Roles Identification Questionnaire
Identify Critical Roles in Your Organization
One of the first steps towards a robust succession plan is to identify which roles in your organization should be involved in the planning process. To do this, you will need to decide which positions are critical to the success of your company. The Critical Roles Identification Questionnaire is a succession planning template that will help you to identify those key roles that your organization should target in your succession program.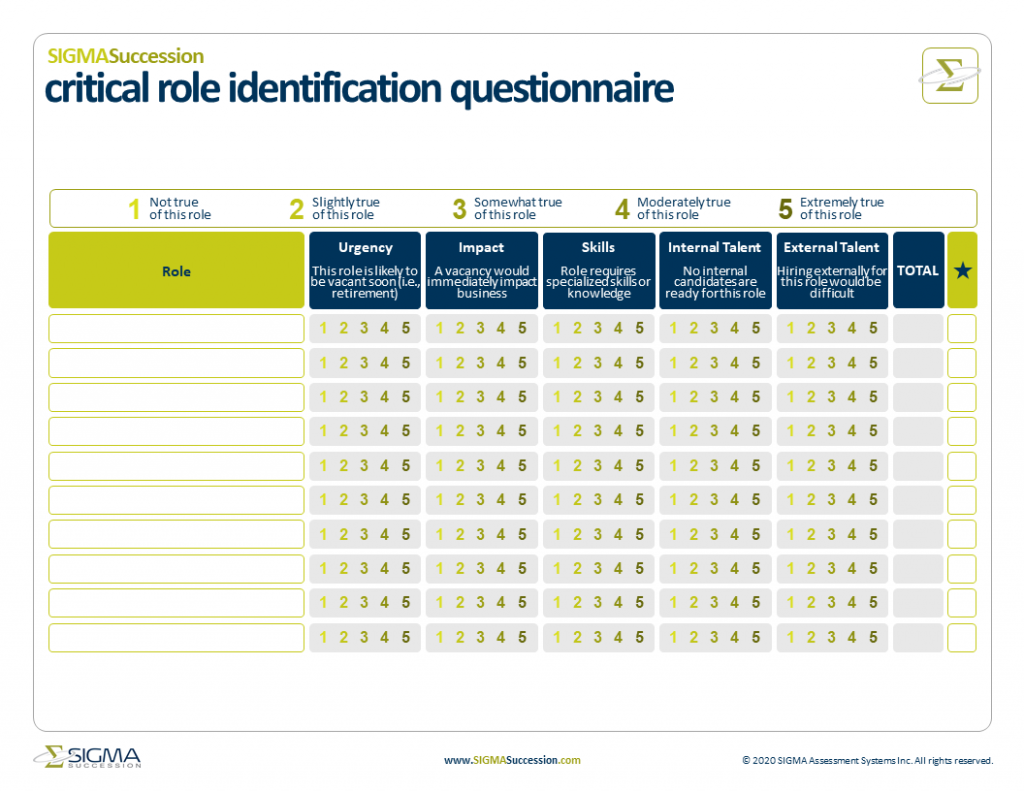 Benefits of Identifying Critical Roles
Identifying critical roles is the first step in SIGMA's six-step succession planning process. Every subsequent step depends on identifying critical roles well. Other benefits of identifying critical roles include helping you to:
Prioritize your succession planning process
Prioritize employee development efforts
Understand your company's operations
Think strategically about who is on your team and why
Identify roles that have a strong impact on your business
Identify roles that have a unique skill or knowledge base
See trends in external and internal candidate availability
Establish a summary of critical people and positions in your organization
Which Roles to Include in Succession Planning
The Critical Roles Identification Questionnaire asks you to list all the roles in your company that are important to operations. While you are likely to list your C-suite leaders and senior managers first, it's also important to take a step back and look beyond management. Are there any lynchpin roles at other levels – for example, among administrative staff or IT? Be sure to consider both essential people and essential roles to target when creating your succession plan.
Once you have identified each of your critical roles, the next step in the succession planning process is to rate each role on the following five criteria:
Urgency
Impact
Skills
Internal Talent
External Talent
On a scale from 1-5, indicate your level of concern for each role at each criterion. Use higher ratings to indicate areas of greater concern
Identifying Critical Roles for Succession
1. Urgency
In the context of succession planning, urgency refers to how likely it is that a role is going to be vacant soon. Based on past conversations and eligibility to retire, indicate how quickly you anticipate needing to fill the role. Roles where the incumbent is planning to stay for more than five years should be considered low urgency (1-2). Roles where the incumbent is planning to leave within three years should be considered urgent (4-5). Be sure to take into consideration that an employee may also be offered or look opportunities elsewhere.
2. Impact
On this questionnaire, 'impact' refers to the extent to which a vacancy would affect your organization. Impactful roles are those which allow businesses to operate as usual. In other words, they are gatekeepers, task completers, and decision-makers. Impactful roles might not always be the most obvious ones, so make sure you take time to consider whether an overlooked position lower down in the organization's hierarchy might really be a critical point of support.
3. Skills
Consider whether the roles you listed require any specialized skills or knowledge. Evaluate not only the skills needed to be qualified for the role, but also the institutional knowledge that is needed to be successful in this role. Understanding the level of skill needed for a role does more than indicate how critical the role is – it is also important information that will be used to identify qualified succession candidates, set development goals, and/or recruit and on-board if hiring externally.
4. Internal Talent
Use this column to evaluate how long it would take for internal succession candidates to become ready to fill each role. Roles for which you will have multiple succession candidates ready in 1-3 years should be considered lower urgency (score 1-2). Roles for which few candidates will be ready, and they won't be ready for 5+ years should be considered higher urgency (score 4-5). Collectively (column total), this score will be an indicator of the strength of your succession bench.
5. External Talent
Although promoting from within is generally more effective than hiring externally, some cases will inevitably require you to look beyond your organization. For this reason, it's important to know how difficult it will be to fill a critical role with an external candidate. Higher scores indicate greater difficulty in finding external hires and indicate a stronger need for succession planning and internal talent pool development.
Deciding What Roles are Critical for Succession
After ranking each criterion, add your scores and record the total for each role. Roles with higher scores indicate greater need for succession planning, either because the role will be vacated soon, losing the position would seriously impact the business, the role requires specialized skills or knowledge, or there is little internal or external talent available to fill the position.
Prioritize Succession Planning for Key Positions
The final step in filling out your Critical Role Identification Questionnaire is to make a decision. Use the asterisk box to mark which roles you identify as critical based on a minimum threshold for the total number of points. We recommend using 16 as a default cut-off for critical roles, as these roles will be urgent, impactful, specialized, and with little internal or external talent available for on-boarding. Thresholds may also be set lower. The lower you set your threshold, the more proactive or risk-adverse your succession planning process will be.
Once you are ready to start planning, begin with the roles you've given the highest score; this will help you prioritize your efforts and ensure you're addressing the organization's greatest need first. Note that by nature all roles listed on the Critical Roles Identification Questionnaire will be essential to the success of your business. This means that you should invest in a succession planning process for each.
It is possible you will find some of the results surprising. If a critical role scored low on this template, it may have an organic leadership pipeline feeding into it. Take time to investigate how potential succession candidates were groomed and ensure you continue to invest in this practice by rewarding leaders who mentor their subordinates. Finally, after addressing high urgency roles, take time to formalize the succession planning procedure for these low-urgency roles as well.
Need Help Getting Started?
SIGMA's Succession Planning Launch offers a simple and cost-effective way to build a robust Succession Planning process and ensure your organization's leadership is positioned for success and prepared for the unknown.
Contact us to learn how we deliver a full year Succession Implementation Plan for each member of your leadership team in just two half-day workshops.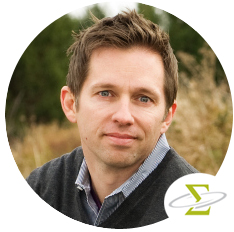 Talk to an Expert
If you're interested in learning more about SIGMA's succession planning services, Glen is the guy for you. He knows our material inside and out, and can tell you first-hand stories of the work we've done with our clients. And just so you know, Glen doesn't do sales – he does solutions. That might mean answering your questions, giving you our best tips and tricks, or pointing you to our FREE resources. Send him an email or give him a call! He'd love to chat with you.